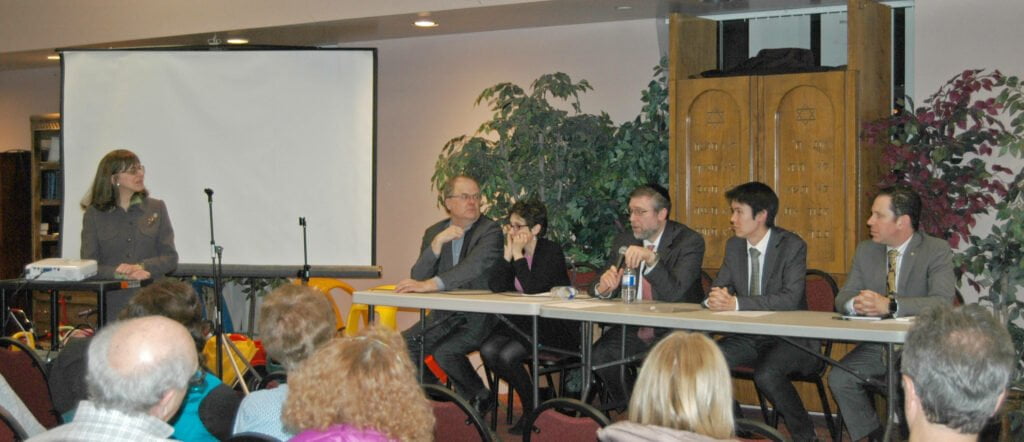 March 31, 2017
By Tevy Pilc
Staff Writer/Researcher
B'nai Brith Canada
The message was loud and clear: when it comes to the reality of Medical Assistance in Dying (MAID) – lives, jobs, reputations and a principled stance of ethical conscience are critically at stake.
This was relayed to a highly engaged and poignant crowd of doctors, medical care workers and concerned citizens at a town hall meeting on MAID, hosted by B'nai Brith Canada's League for Human Rights on March 29, 2017 in Toronto.
Presented by members of the League's Subcommittee for Reconciliation of Patient and Physician Rights, discussion revolved around Bill 84 (the Medical Assistance in Dying (MAID) Statute Law Amendment Act), which has been introduced into the Ontario government. While the legislation – which follows federal legislation passed in June 2016 – would "support the implementation of medical assistance in dying by providing more protection and greater clarity for patients, their families and their health care providers," it does not provide conscience protection for doctors and health care providers who conscientiously object to participating in MAID.
"Only in Ontario, doctors are obligated to refer patients to doctors who will perform MAID," said Dr. Janice Halpern, Subcommittee co-chair. "If they refuse, they can and will be punished."
Larry Worthen, Executive Director of the Coalition for HealthCare and Conscience, illustrated that not only does MAID violate the Hippocratic Oath and conscience protections in the Canadian Charter of Rights and Freedoms, but has created an environment where doctors are being pushed away from particular areas of medicine.
"College of Physicians and Surgeons of Ontario (CPSO) experts are literally telling doctors who refuse to offer MAID to not go into or actually leave family medicine, palliative care or other medical fields where MAID applies," said Worthen. "What we're seeing is a radical secularism driving doctors with conscience out of the industry."
Worthen's Coalition for HealthCare and Conscience has launched a "Call for Conscience Campaign," which aims to amend Bill 84 and change other policies that can protect vulnerable patients and healthcare workers from performing or referring MAID against their will.
"This is a cause B'nai Brith Canada needs to get behind," said Michael Mostyn, Chief Executive Officer of B'nai Brith Canada. "We're proud to work together and create the subcommittee to support the campaign."
Dr. Ellen Warner, Subcommittee co-chair, highlighted the many instances of how the advertisement and dressing up of MAID is severely different from the reality of its implementation.
"MAID has been portrayed as a last-ditch option for desperate patients and something for them to reflect on before making an ultimate decision," said Warner. "Instead we have trigger-happy doctors who are coaxing vulnerable patients into the option of MAID and are also willing to waive a traditional ten-day waiting period before making a final decision."
Also speaking was Rabbi Daniel Korobkin, spiritual leader of the BAYT synagogue in Thornhill and Lawyer Brendan Donovan of Wagner Sidlofksy LLP. Donovan will be assisting B'nai Brith, which gained intervenor status, at the divisional court in June where the constitutional issue of MAID will be discussed.
If you are a doctor or a healthcare worker and are interested in joining the Subcommittee for Reconciliation of Patient and Physician Rights, please contact: [email protected]
For more information on the Coalition for HealthCare and Conscience, visit their website here.