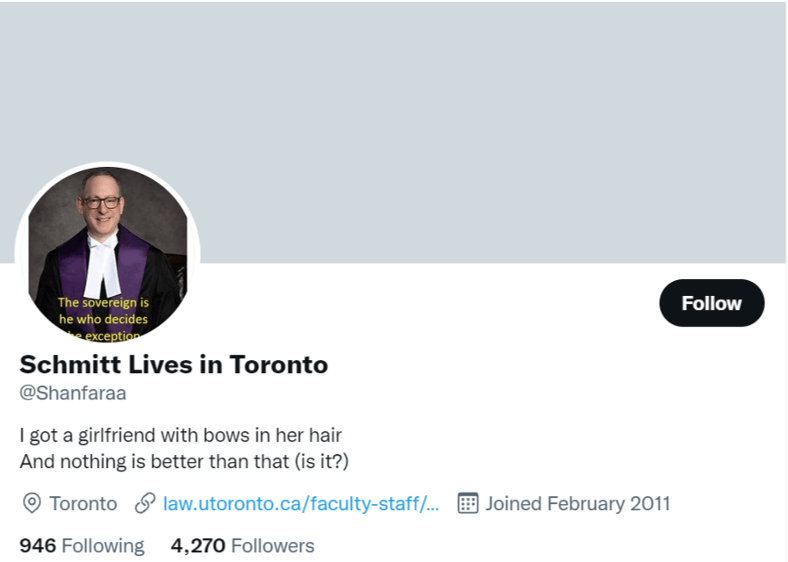 Oct. 7, 2021
TORONTO – B'nai Brith Canada is deeply disturbed by the nonchalance of a leading Canadian law school toward a professor who has for months equated a Jewish judge with an infamous Nazi jurist.
Professor Mohammad Fadel teaches Business Organizations at the University of Toronto Faculty of Law, a mandatory course for undergraduate law students. For months, his Twitter profile picture has depicted Justice David Spiro, a Jewish member of Canada's Tax Court. At the bottom of Spiro's photo, Fadel has written the words: "The sovereign is he who decides the exceptions." This is a quote from Carl Schmitt, a bitterly antisemitic German jurist who joined the Nazi Party and facilitated its rise to power in the 1930s.
Under the photo, Fadel has added the words: "Schmitt lives in Toronto." Justice Spiro in fact lives in Toronto, making Fadel's equation clear. The Twitter profile also contains a direct link to Fadel's page on the Faculty of Law website.
Spiro was accused of interfering in the hiring process for the Faculty's International Human Rights Program last year. In May, the Canadian Judicial Council found that, while Justice Spiro had erred, his error did not warrant his removal from the bench, and that the allegations of anti-Muslim or anti-Arab bias against him were unfounded. That decision is now subject to a judicial review application.
Recent Jewish graduates of the faculty repeatedly raised this issue with Dean Jutta Brunnée over the summer, emphasizing the antisemitic nature of this baseless comparison of a Jewish judge to a Nazi. But the Dean refused to intervene, while declining to explain whether she considered Fadel's Nazi comparison a legitimate exercise of his "academic freedom." The faculty's own official Twitter has directed followers to Fadel's account.
"Comparison of Jews with Nazis is a standard modern antisemitic trope," said David Matas, Senior Legal Counsel for B'nai Brith Canada. "Academic freedom does not entitle academics to create a hostile environment for other academics and students.  Tolerating bigotry from academics leads to disintegration of the university community. Academic freedom includes the freedom to teach, learn, research and study in an environment free from hostility, harassment and bigotry."
"Whatever one thinks of the U of T Law controversy, comparing Jews to Nazis is always beyond the pale," said Michael Mostyn, Chief Executive Officer of B'nai Brith Canada. "These comparisons are particularly deplorable given the dramatic rise in both antisemitism and inappropriate Nazi comparisons in Canada over the past few months."
Over the course of the recent federal election campaign, dozens of candidates' signs were defaced withswastikas, Hitler moustaches and other imagery equating Canadian politicians with Nazis. This rhetoric was subject to nearly unanimous condemnation from across the political spectrum.
Ironically, Fadel has been quoted extensively by media as a source on the U of T Law controversy. Why Fadel compares Judge Spiro to a Nazi on his Twitter Feed remains a troubling mystery to B'nai Brith and members of our community.