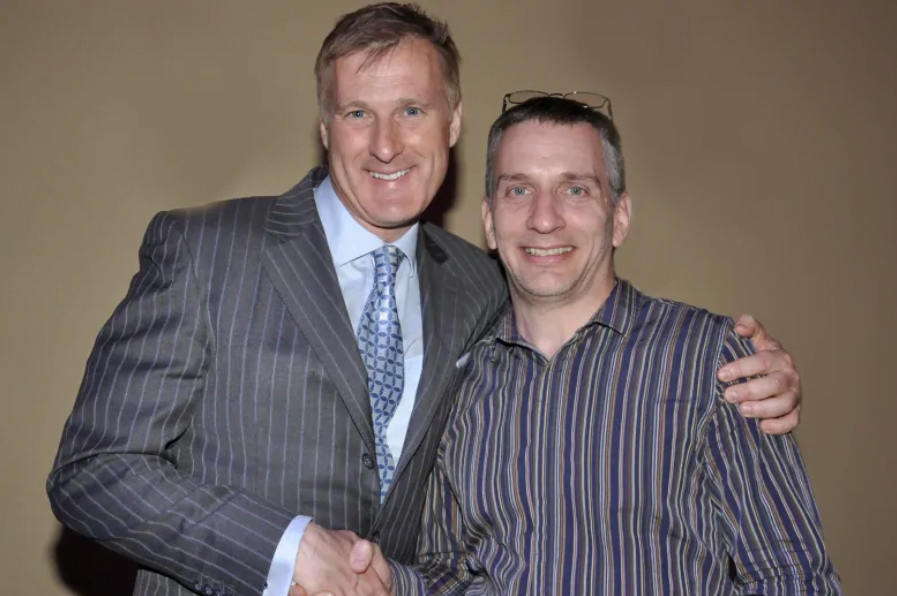 Feb. 6, 2019
By Daniel Koren
Manager, Media Relations & Communications
B'nai Brith Canada
MONTREAL – The Canadian government is a "mafia" cartel.
A previous U.S. administration engaged in "torture" and "state terrorism," and former President Barack Obama was "on the trail of fascism."
Members of the media are "parasites."
These are just a sampling of public declarations that illustrate the conspiratorial worldview of Martin Masse, a key spokesperson for the People's Party of Canada and a long-time friend and advisor to its leader, Maxime Bernier.
An independent investigation by B'nai Brith Canada revealed that Masse has either made or supported a bevy of statements that may foment antisemitism, misogyny, and racism. The majority of them stem from his time as owner and publisher of Québécois Libre, an online Libertarian news outlet that featured several derogatory and erroneous articles. It shut down in 2016.
In one piece, a contributor claims that the West is to blame for terrorism, writing that Islamist suicide attacks "are not a consequence of religious extremism" but a "response to political extremism – namely Western aggression and interventionism."
In others, columnists suggest that Abraham Lincoln was "a war criminal and America's worst-ever president" who did not to aim to abolish slavery, and that Africa has equal responsibility for the Western slave trade.
Masse also published an article that discredits LGBTQ groups as wanting to establish "their own tyranny."
In several articles, Masse personally defends former European politicians Jörg Haider, who spoke highly of Nazi war criminals and often trivialized the Holocaust, and Jean-Marie Le Pen, a convicted Holocaust denier who endorsed several antisemitic tropes – including that former French President Jacques Chirac was "controlled (page doesn't exist) by Jewish organizations, notably the notorious B'nai Brith."
Similarly, Masse has referred to B'nai Brith and other Jewish groups in Canada as "ethnic barons," and decried "pro-Israel media." He has denounced Zionism as "just another fancy justification for killing and displacing Palestinians," derided egalitarian laws for favouring "femi-fascists," and suggested that both Israel and the United States are partially to blame for terror attacks against them, while calling the former a "police state."
As a member of the PPC, Masse signed a "no-embarrassment pledge" stating he has never done anything to damage his party.
However, when B'nai Brith approached Bernier with a lengthy dossier detailing Masse's embarrassing statements, Bernier responded, "There is nothing in what I read that can be described as antisemitic or racist views."
Bernier also refused B'nai Brith's demand to remove Masse from his party.
"From flirting with misogyny to publishing articles that both blame Western policy for terrorism and support antisemitic conspiracy theories, Martin Masse has proven himself undeserving of a high-ranking paid position in a federal party seeking to govern our nation," said Michael Mostyn, Chief Executive Officer of B'nai Brith Canada. "If Bernier is truly interested in upholding the Canadian principles of equality and inclusivity, he must expel Masse from the PPC."
In a disturbing comment thread in one article, Masse said outright that "I cannot allow myself to say what I want" in media interviews. "We must avoid looking too radical," he said.
"Because he has admitted to misrepresenting his views in the media to avoid looking too radical, one wonders how extreme his views actually might be," Mostyn said.
Please join us in demanding action by writing to Maxime Bernier at [email protected] and to the People's Party of Canada here.
---
Un haut conseiller de Bernier défend les sympathisants nazis et promeut les théories du complot
Un porte-parole du Parti populaire du Canada endosse des opinions discriminatoires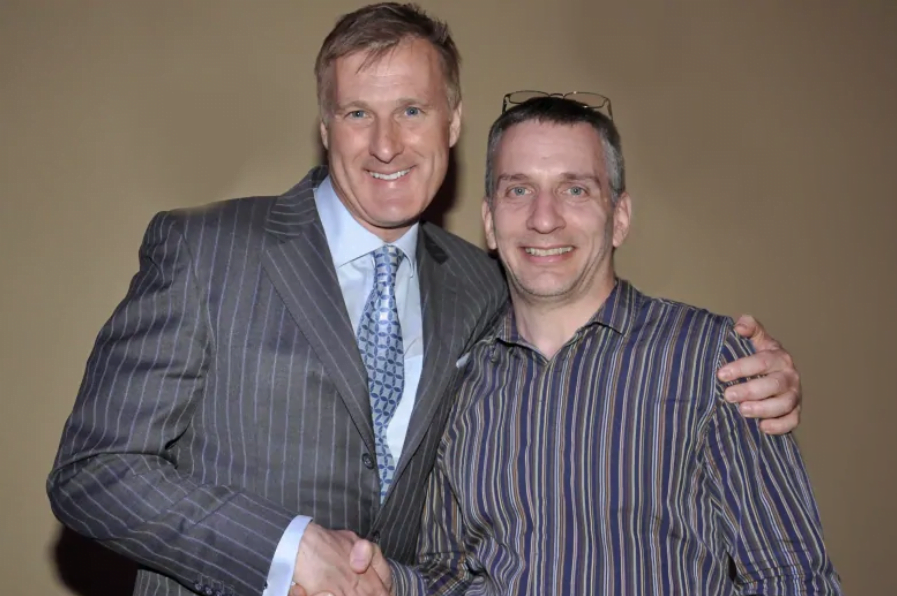 Maxime Bernier (à gauche) et son conseiller principal, Martin Masse (Crédit photo: CBC)
6 février 2019
MONTRÉAL – Le gouvernement canadien est un cartel de la «mafia».
Une administration américaine antérieure s'est livrée à la «torture» et au «terrorisme d'État», et l'ancien Président Barack Obama était «sur la voie du fascisme».
Les membres des médias sont des «parasites».
Ce ne sont là que quelques exemples de déclarations publiques illustrant la vision du monde conspiratrice de Martin Massé, porte-parole clé du Parti populaire du Canada et ami et conseiller de longue date de son dirigeant, Maxime Bernier.
Une enquête indépendante menée par B'nai Brith Canada a révélé que Masse avait soit fait, soit soutenu toute une série de déclarations susceptibles de fomenter l'antisémitisme, la misogynie et le racisme. La majorité d'entre eux sont issus de son époque en tant que propriétaire et éditeur de Québécois Libre, un journal de presse libertaire en ligne qui contenait plusieurs articles péjoratifs et erronés. Il a fermé en 2016.
Dans un article, un contributeur affirme que l'Occident est à blâmer pour le terrorisme, écrivant que les attentats-suicide islamistes «ne sont pas une conséquence de l'extrémisme religieux» mais une «réponse à l'extrémisme politique – à savoir l'agression et l'interventionnisme occidentaux».
Dans d'autres articles, des chroniqueurs suggèrent qu'Abraham Lincoln était «un criminel de guerre et le pire président de tous les temps des États-Unis», qui n'avait pas pour objectif de supprimer l'esclavage et que l'Afrique avait une responsabilité égale dans le commerce des esclaves occidentaux.
Massé a également publié un article qui discrédite les groupes LGBTQ comme voulant établir «leur propre tyrannie».
Dans plusieurs articles, Masse défend personnellement les ex-politiciens européens Jörg Haider, qui a fait l'éloge des criminels de guerre nazis et a souvent banalisé l'Holocauste, et Jean-Marie Le Pen, un négationniste invétéré qui a endossé plusieurs tropes antisémites, en affirmant que l'ancien président français Jacques Chirac était «contrôlé  (page doesn't exist) par des organisations juives, notamment le tristement célèbre B'nai Brith».
De même, Massé a qualifié B'nai Brith et d'autres groupes juifs au Canada de «barons ethniques» et a décrié les «médias pro-israéliens». Il a qualifié le sionisme de «simplement une justification supplé mentaire de l'assassinat et du déplacement de Palestiniens», se moquant ainsi de lois égalitaires favorisant les «féministes-fascistes», et a laissé entendre qu'Israël et les États-Unis sont en partie responsables attentats terroristes contre eux, tout en qualifiant ce dernier un «Etat policier».
En tant que membre du PPC, Massé a signé un «engagement sans embarras» déclarant qu'il n'a jamais rien fait de mal à son parti.
Cependant, lorsque B'nai Brith a approché Bernier au sujet des déclarations embarrassantes de Massé, ce dernier a répondu que rien dans son long dossier ne décrivait les vues de Massé comme étant «racistes» ou «antisémites».
Bernier a également refusé la demande de B'nai Brith de renvoyer Massé de son parti.
«Du flirt avec la misogynie à la publication d'articles accusant à la fois la politique occidentale de terrorisme et soutenant les théories du complot antisémite, Martin Masse s'est révélé indigne d'un poste rémunéré de haut rang dans un parti fédéral cherchant à gouverner notre pays», a déclaré Michael Mostyn, Directeur général exécutif de B'nai Brith Canada. «Si Bernier est vraiment intéressé à défendre les principes canadiens d'égalité et d'inclusion, il doit expulser M. Masse du CPP».
Dans un fil de commentaire troublant sur un article, Masse a déclaré carrément: «je ne peux pas me permettre de dire ce que je veux» dans des interviews avec les médias. «Nous devons éviter d'avoir l'air trop radical», a-t-il déclaré.
«Puisqu'il a admis avoir déformé ses opinions dans les médias pour ne pas paraître trop radical, on peut se demander à quel point ses opinions pourraient être extrêmes», a déclaré Mostyn.
Joignez-vous à nous pour exiger qu'une action appropriée soit entreprise en écrivant à Maxime Bernier à [email protected] et au Parti Populaire du Canada.