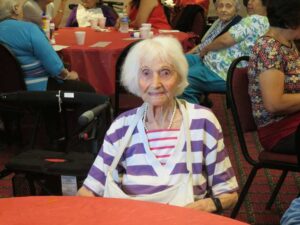 Tevy Pilc
Staff Writer/Researcher
B'nai Brith Canada
A very special guest made an appearance at one of our bingo events for B'nai Brith Canada's seniors' program.
Joined by her daughter, Tilly Oslender attended an afternoon of bingo at B'nai Brith's national head office last week.
Tilly is an incredible 109 years young!
Tilly was born March 24, 1907 in Kiev, Ukraine, which was then still considered part of the Russian Empire (that's even before the Russian Revolution in 1917). She moved to Canada when she was 22, which would have been in 1929.
"She has to be the oldest person I've seen attend any of our programs," said Amy Liefer, who's been the Program Coordinator for the Seniors' Outreach Centre for the past five and a half years. "I was fascinated to meet a woman with so much wit and who strives to live independently at her age."
We hope Tilley continues to live a long and happy life and we hope to see her again our seniors' programs!
Learn more about B'nai Brith's weekly subsidized seniors' programming, click here. You can also call 416 633 6224 ext 134.