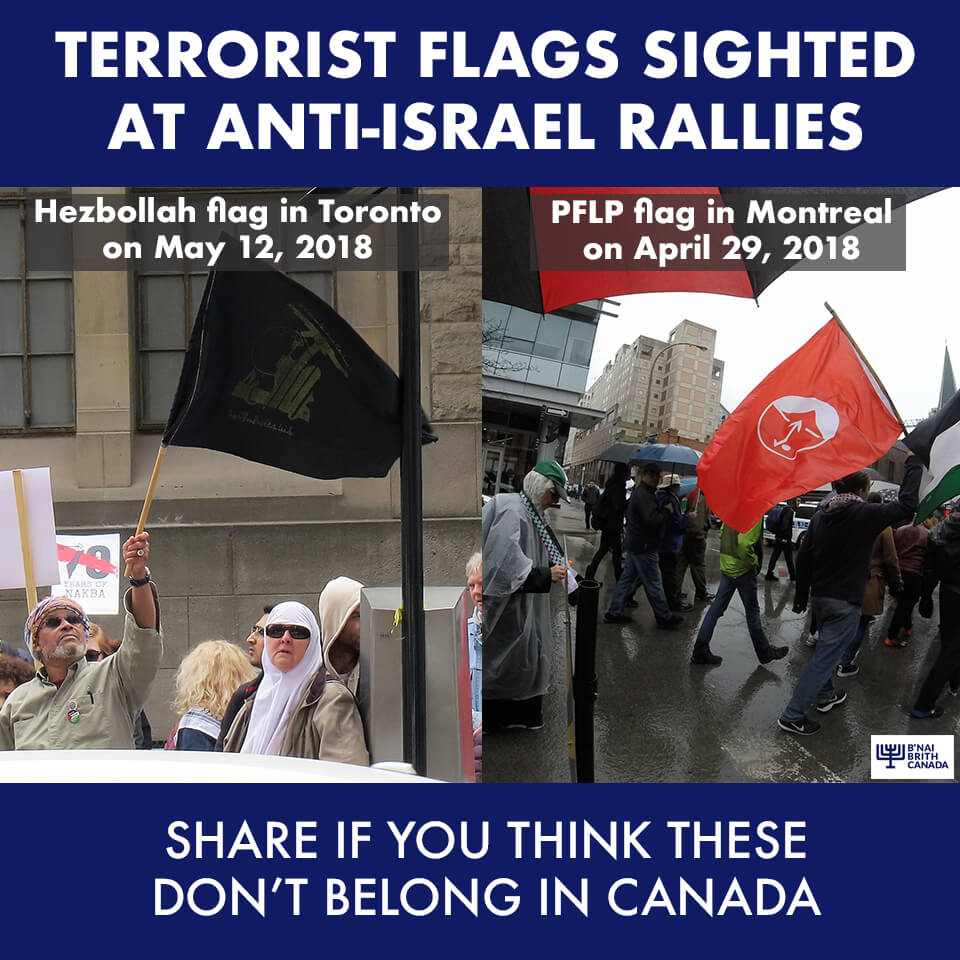 May 14, 2018

By Daniel Koren
Media Coordinator
B'nai Brith Canada
TORONTO – A flag of the Hezbollah terrorist group was spotted alongside Palestinian flags and makeshift signs falsely accusing Israel of apartheid at an anti-Israel rally in Toronto Saturday, just weeks after a similar incident in Montreal involving a PFLP flag.
Both Hezbollah and the PFLP (Popular Front for the Liberation of Palestine) are designated terrorist entities in Canada. However, there are no laws in Canada against waving terrorist or even Nazi flags.
The Toronto rally took place outside the Israeli Consulate to commemorate "Nakba Day," when Palestinians mourn the establishment of the modern State of Israel and call for its destruction.
Hezbollah is based in Lebanon and funded by Iran, and has been linked to dozens of terror attacks, including the 1994 AMIA bombing  of a Jewish cultural centre in Argentina that left 95 dead.
In 2002, a B'nai Brith campaign prompted the Canadian government to ban all of Hezbollah's operations and add it to a list of groups whose assets are frozen and seized.
The Montreal incident took place at a rally on April 29, in which a man was caught waving the flag of the PFLP.
In 2014, a PFLP attack on a Jerusalem synagogue left six dead, including Canadian-Israeli rabbi Haim (Howie) Rothman.