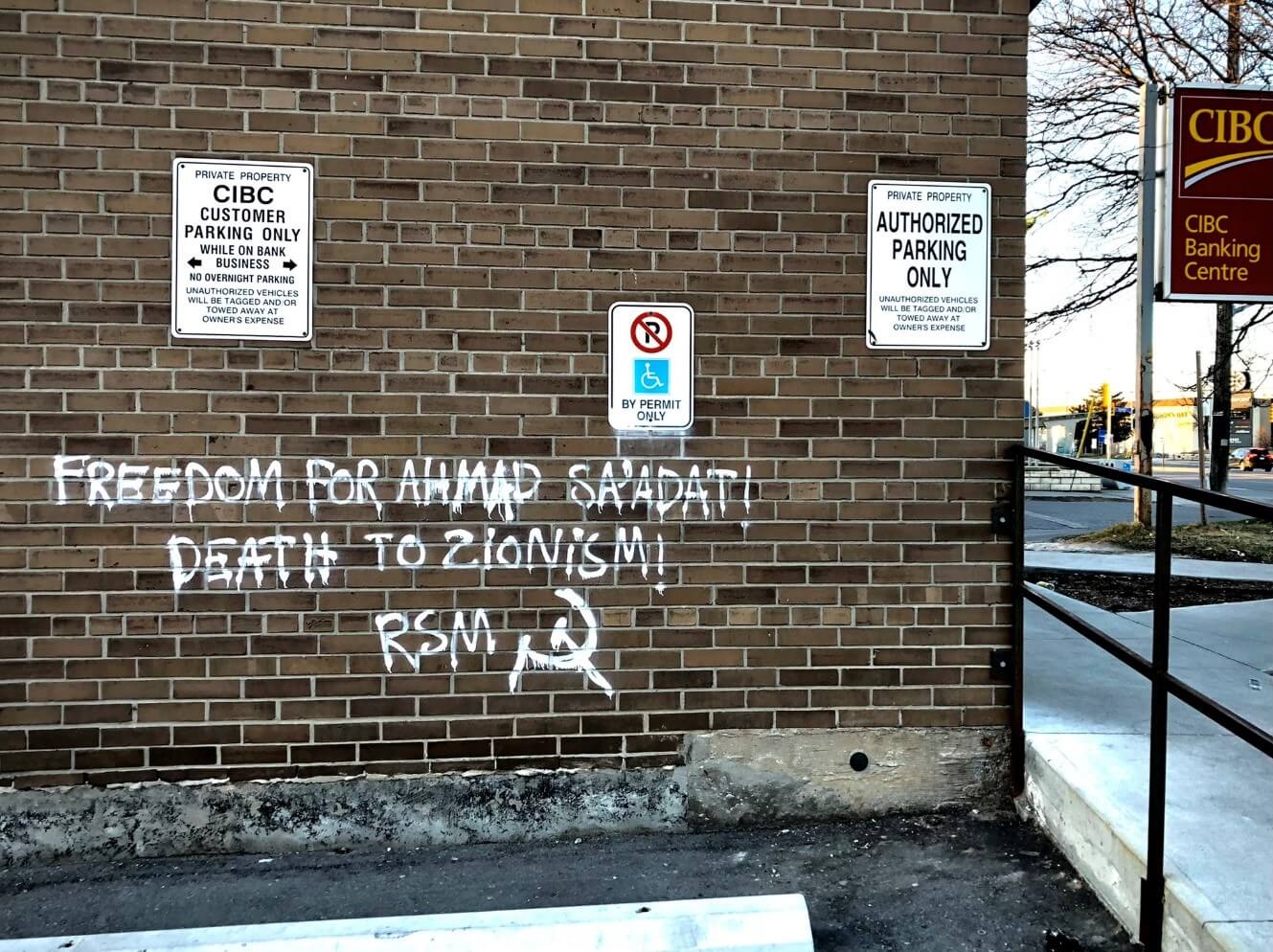 April 5, 2021
TORONTO – A Maoist group, which B'nai Brith Canada now understands is linked to a designated terrorist entity, is continuing to target the Jewish community with graffiti in the Greater Toronto Area.
On Wednesday, the fourth day of Passover, graffiti attacking the internationally-accepted definition of antisemitism was found on an entrance to the Finch TTC station. The graffiti bore the initials of the RSM, or "Revolutionary Student Movement."
Over the weekend, the RSM dramatically escalated its attacks – tagging a slew of other locations in the vicinity, including a bank in the heavily Jewish Thornhill neighbourhood. The bank was defaced to read: "Freedom for Ahmad Sa'adat! Death to Zionism!"
Sa'adat is the General-Secretary of the Popular Front for the Liberation of Palestine (PFLP), a designated terrorist entity in Canada, and is currently serving a 30-year sentence in Israeli prison for ordering the murder of civilians.
The RSM itself appears to draw inspiration from yet another terrorist organization. The group proclaims on Twitter that it is "guided by Marxism-Leninism-Maoism-Gonzalo thought." Gonzalo is the nom de guerre of Abimael Guzmán, who led a brutal Maoist insurgency in Peru, and whose organization, the Sendero Luminoso (Spanish for "Shining Path"), is also a designated terrorist entity in Canada.
Tens of thousands of Canadian Jews, especially in the Greater Toronto Area, hail from the former Soviet Union, where communist officials persecuted Jews and prevented them from openly practicing their religion or culture.
The RSM's antisemitic attacks are not limited to the Greater Toronto Area. Last year, the group's Vancouver cell bragged about vandalism targeting what it called a "Zionist synagogue" in that city.
"Sadly, Canada's Jewish community continues to face threats from both the far-right and the far-left," said Michael Mostyn, Chief Executive Officer of B'nai Brith Canada. "We are working with our partners in law enforcement, and are confident that this terrorist-admiring cell will eventually be brought to justice.
"Harassing a Jewish community's neighbourhood with hostile messages is clearly antisemitic. Those who have attempted to justify attacks on Canadian Jewry, from whatever source, should hang their heads in shame. Neither the left nor the right has a monopoly on antisemitism, and no excuses should ever be made for it."
B'nai Brith urges members of the public who encounter the vandals not to confront them, but rather to contact police immediately. The Toronto RSM cell features a Molotov cocktail in their logo, and it is unknown whether members might be armed.