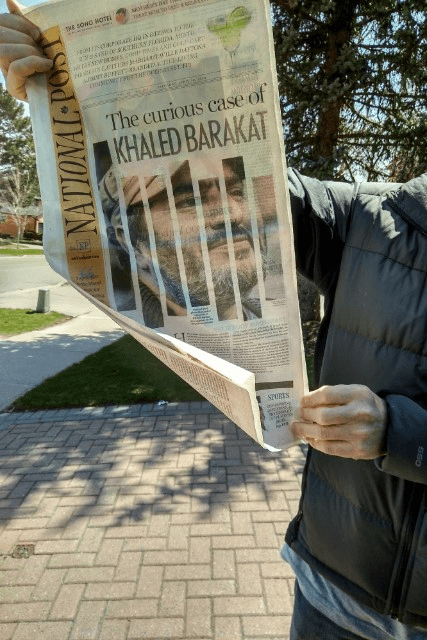 Pour le français voir ci-dessous
May 4, 2022
OTTAWA – For more than two years, B'nai Brith Canada has been leading the struggle to expel a dangerous antisemitic terror group from Canada. Today, it's your turn to make your voice heard.

Last week, journalist Terry Glavin exposed the Khaled Barakat scandal in the National Post. Despite multiple warnings and intelligence from B'nai Brith Canada, Ottawa has allowed Barakat, a high-ranking member of the Popular Front for the Liberation of Palestine (PFLP), to roam free in Canada. The PFLP is a designated terrorist entity.
Barakat's wife, a U.S. national named Charlotte Kates, has made Vancouver the home of Samidoun, a PFLP front group that Ottawa has inexplicably allowed to incorporate under the Canada Not-for-Profit Corporations Act.
Momentum is building to hit back against the PFLP network in Canada. On Tuesday, Senator Leo Housakos challenged the Government in Question Period to make things right. We continue to await a substantive response.
It is now clearer than ever that only massive public pressure will force Ottawa to do the right thing. Please sign our petition to Prime Minister Trudeau NOW and share it with a minimum of 10 friends to help keep our community safe.
B'nai Brith remains committed, as always, to ensuring that our Government combats terrorism and racism while upholding Canadian law. But we can only be effective with a few seconds of your time and support.

Dites à Ottawa d'agir MAINTENANT contre le FPLP au Canada
Le 4 mai 2022
OTTAWA – Depuis plus de deux ans, B'nai Brith Canada mène la lutte pour expulser un dangereux groupe terroriste antisémite du Canada. Aujourd'hui, c'est à votre tour de faire entendre votre voix.

Jeudi dernier, le journaliste de renom Terry Glavin a révélé le scandale Khaled Barakat dans le National Post. Malgré les multiples avertissements et les renseignements de B'nai Brith Canada, Ottawa a permis à Barakat, un membre haut placé du Front populaire de libération de la Palestine (FPLP), une entité terroriste désignée, de se promener librement au Canada.
La femme de Barakat, une ressortissante américaine du nom de Charlotte Kates, a fait de Vancouver la résidence de Samidoun, un groupe de façade du FPLP qu'Ottawa a inexplicablement permis d'incorporer en vertu de la Loi canadienne sur les sociétés à but non lucratif.
L'élan se développe pour riposter contre le réseau du FPLP au Canada. Mardi, le sénateur Leo Housakos a mis le gouvernement au défi, lors de la période de questions, de rectifier la situation. Nous continuons à attendre une réponse substantielle.
Il est maintenant plus clair que jamais que seule une pression publique massive obligera Ottawa à faire ce qu'il faut. S'il vous plaît, signez MAINTENANT notre pétition adressée au Premier ministre Trudeau et partagez-la avec 10 amis pour aider à assurer la sécurité de notre communauté.
B'nai Brith Canada reste engagé, comme toujours, à combattre le terrorisme et à faire respecter la loi canadienne. Mais nous pouvons être beaucoup plus efficaces avec seulement quelques secondes de votre temps et de votre soutien.