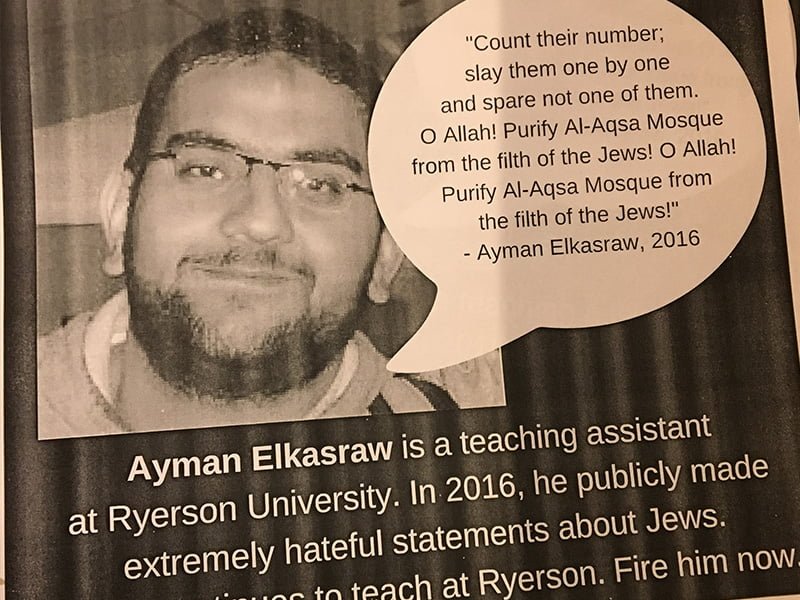 By Aidan Fishman
Campus Advocacy Coordinator
B'nai Brith Canada
Ayman Elkasrawy, a teaching assistant at Ryerson University who called to "purify the al-Aqsa Mosque from the filth of the Jews" during a sermon, has been dismissed by the university.
In a letter to B'nai Brith Canada, Ryerson President Mohamed Lachemi noted that Elkasrawy was "no longer employed by the university," and added that "we remain actively engaged in addressing antisemitism in our community." B'nai Brith had sent a letter demanding that Elkasrawy be fired on Feb. 21.
Elkasrawy, who worked within Ryerson's Faculty of Engineering and Architectural Science, delivered his inflammatory supplications at the Masjid Toronto Mosque in June of 2016.
The mosque later issued an apology for his remarks.
"We are relieved to finally hear that Mr. Elkasrawy has been dismissed," said Michael Mostyn, Chief Executive Officer of B'nai Brith Canada. "There is no place for someone who believes that Jews are 'filth' to deliver lectures or grade assignments at a Canadian university.
"We hope that this action by Ryerson administration will serve as a turning point in what has been a difficult year for Jewish students on that campus, and commend the administration for dealing with this serious matter."
On Nov. 30, 2016, students from the Ryerson chapter of Students for Justice in Palestine and the Muslim Students Association walked out of a student union meeting in order to obstruct a Holocaust education motion. It was later revealed that student union president Obaid Ullah Babar had orchestrated the walkout, despite earlier denials.