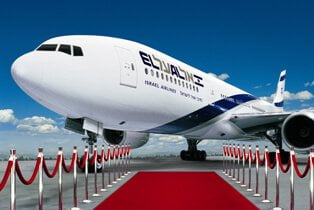 By Jordan Zaitchik
B'nai Brith Canada
Santiago de Compostella, a Spanish city trying to increase its tourism, has lost its direct connection with Israel over its support for boycotting the Jewish state the Times of Israel is reporting.
The city's tourist officials has tried to negotiate the opening of a direct line between the city and Tel Aviv with El Al, Israel's national airline. In November Santiago de Compostella's city council passed a motion in favour of boycotting Israel, soon after losing its deal with El Al. On July 20, the Israeli airline opened a direct connection in Valencia in response to the boycott.
The city is the capitol of Galicia a Northwestern region of Spain. The region is home to many tourist attractions such as the Way of St. James, a Catholic pilgrimage route. The route attracts as many as 250, 000 tourists a year. Galicia's economy is somewhat dependent on tourism with 18.2 percent of its workforce unemployed and 43 percent of workers under the age of 25. The local government has invested millions of Euros in the tourism industry in the attempt to attract as many international tourists as possible.
The far-left party governing city council was accused of destroying this critical connection with El Al. Center-right Popular party member Alejandro Sánchez-Brunete commented on the loss, "These talks were focused" and at advanced stages, the council member said. The motion "resulted in the loss of an aerial connection."
An independent investigation revealed that the motion to boycott Israel was the cause of the event. El Al's director of Spain, Walter Wasercier, said that he pushed for opening the flight this summer. The director added that El Al's direct connection to Lisbon presented an opportunity to add Santiago to its list of Spanish destinations. Approximately 350,000 Israeli tourists visit Spain annually.
ACOM, a pro-Israel group currently fighting the Boycott and Sanctions of Israel movement in Spain blamed the far-left ruling party for running the city "with ineptitude." The same group won a precedent-setting High Court lawsuit earlier this year, which labeled the Boycott and Sanctions movement as discriminatory. ACOM released a statement which described Santiago's support for boycotting Israel reflects "disregard not only toward Jews but for its own residents by tearing down a project that would have brought Santiago revenue, tourists and jobs."