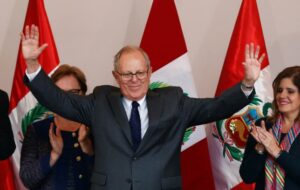 By Simon Pelsmakher
B'nai Brith Canada
Peru has a new president. And he's a member of the tribe.
Pedro Pablo Kuczynski, better known as PPK, has won the 2016 Presidential Elections in Peru with a razor thin margin of 50.12% of the vote. PPK, 77, was born in Lima to a French mother and a German Jewish father.
Maxime Kuczynski, Pedro's father, was a highly respected pathologist who pioneered the treatment of leprosy in Peru after fleeing Germany in the mid 1930s.
PPK was educated in Britain and the United States in economics. He has held positions at the World Bank, the Peruvian Central Bank, the investment banking company First Boston International, and has served as Peru's Finance Minister and Prime Minister.
He has vowed to fight government corruption, ease investment restrictions, and further develop Peru's agriculture and tourism sectors.