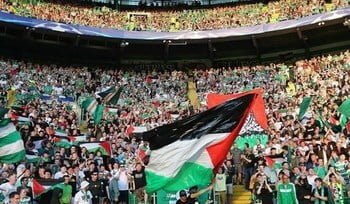 By Tevy Pilc
Staff Writer/Researcher
B'nai Brith Canada
Hostility was the behaviour of choice this past week for soccer hooligans aimed at an Israeli team in France and Jews in Poland.
It began in France on Thursday, August 25, when AS St. Etienne played host to Beitar Jerusalem in a Europa League playoff game. Beitar supporters were not only greeted by a plethora of Palestinian flags but were also told that no Israeli flags would be allowed in the stadium.
The hostility continued the following day in and was taken to another level in Poland as fans of the Widzew Łódź team torched effigies of Jews and called for the burning of Jews in a rally before a match against crosstown rivals, ŁKS Łódź, a team often taunted as "Jews" by many opposing teams' fans.
Heavily increased security measures for the St. Etienne/Beitar match was already arranged in anticipation for potential violence. According to French media, consumption and sale of alcohol were banned. Pyrotechnics, which are a staple at European sporting events, were also prohibited.
This is the second time in recent weeks where Palestinian flags have made an appearance at a European soccer match that includes an Israeli opponent. Fans of Scottish team Celtic came to a match against Hapoel Be'er Sheva armed with Palestinian flags. The Union of European Football (UEFA) launched disciplinary actions against Celtic following the match.
There have been no reports on whether UEFA will take any action following the St. Etienne/Beitar match.
Meanwhile, the shocking scenes of antisemitism in Poland occurred when dozens of Widzew Łódź showed up for a rally at a Lodź train station prior to the team's match against ŁKS Łódź. A report from the Coordination Forum for Countering Antisemitism detailed that demonstrators revealed a banner that read, "19.08, today the Jews were named," which is a reference to the year ŁKS Łódź club was established. The banner concluded with the message of "Let them burn, motherf***ers.
The report also indicated that images taken at the event revealed demonstrators torching effigies dressed in stereotypical Orthodox Jewish attire.