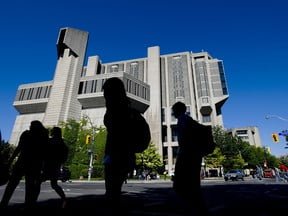 Jan. 26, 2021
TORONTO – A second University of Toronto graduate student executive has resigned over fallout from opposition to a campaign to increase access to kosher food on campus.
In a resignation 
letter
 dated Jan. 19, 2021, Ben Hjorth, the Executive-at-Large of the University of Toronto Graduate Students' Union (UTGSU), lamented an ongoing investigation into "an allegedly antisemitic (in fact simply anti-Israeli, that is anti-apartheid) speech of mine sometime in 2019." He went on to claim, without evidence, that he was being "targeted by Zionist violence" and that the UTGSU Executive Committee might "be turned into kangaroo courts for the Israeli lobby to do its grubby work of trying to defame and threaten those with radical politics."
In November of 2019, Hjorth questioned the morality of a campaign to increase kosher food options on campus, arguing that it was tainted due to the involvement of Hillel, a Jewish campus organization that Hjorth bizarrely blamed for the conditions facing Palestinians in the Gaza Strip. Around the same time, the UTGSU's then-External Commissioner 
resigned
 after similarly refusing to support the kosher food campaign due to Hillel's involvement. The UTGSU eventually 
acknowledged
 that this behaviour was antisemitic.
More recently, Hjorth also supported a September 2020 event with Palestinian terrorist Leila Khaled that was 
cancelled
 by Zoom, Facebook and YouTube.
"The University of Toronto has a serious antisemitism problem," said Michael Mostyn, Chief Executive Officer of B'nai Brith Canada. "A climate has been created in which Jewish organizations and even individual students are blacklisted just because they believe in the existence of a Jewish State.
"We again call on the U of T administration to take urgent and decisive action to stamp out anti-Jewish discrimination across all three of their campuses. The time for talk is over – now is the time for action."
The UTGSU is the only student union in Canada that forces all members – even Jewish and Israeli students – to fund a Boycott, Divestment and Sanctions (BDS) Caucus that uses student fees to attack the Jewish State. A formal complaint regarding this practice has been pending before U of T's Complaint and Resolution Council for Student Societies (CRCSS) for two years, but has inexcusably not been addressed. The complaint alleges, among other things, that the existence of the BDS Caucus violates U of T's anti-discrimination policies.