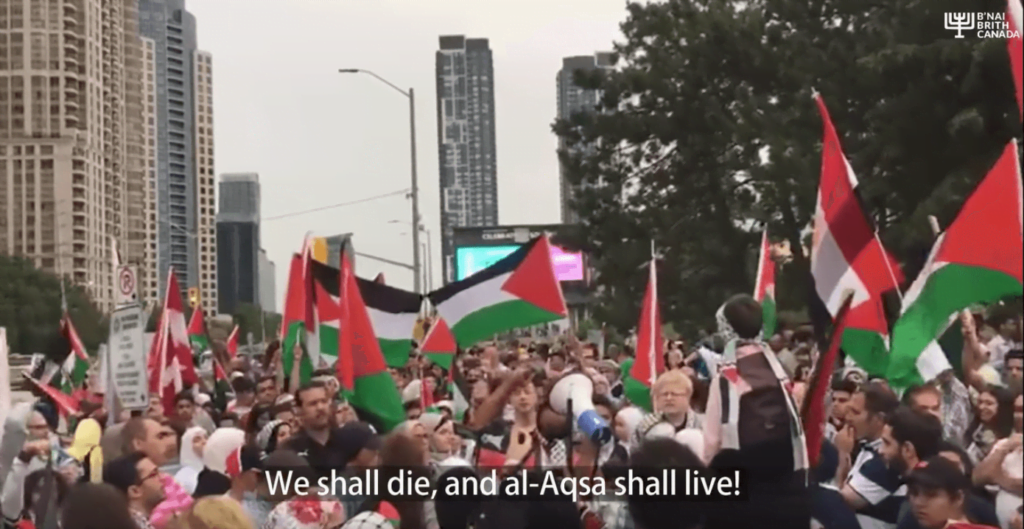 Nov 13, 2017
MISSISSAUGA, Ont. – B'nai Brith Canada is calling on the City of Mississauga to enforce its bylaws against protestors who have threatened violence against Jews and encouraged children to engage in terrorism.
In July, B'nai Brith exposed a rally in Mississauga's Celebration Square, in which hundreds of people chanted in Arabic, "Remember Khaybar, oh you Jews, the Army of Muhammad will return!," in reference to an ancient battle in which a Muslim army defeated and slaughtered Jews in the Arabian Peninsula.
On Nov. 4, the same protestors, led by Palestine House Public Relations Chief Amin El-Maoued, returned to Celebration Square to call for the destruction of Israel. With young children in attendance, protestors chanted, "Oh youth, join him, join him – the martyr has sacrificed his blood!" In the context of the Israeli-Arab conflict, "martyr" is often used as a euphemism for terrorist or suicide bomber.
Peel Regional Police have launched investigations into both incidents, but the City has taken no action, even though its bylaws forbid the use of loudspeakers as well as "profane or abusive language" on City property.
"Mississauga is known as one of Canada's most diverse cities," said Michael Mostyn, Chief Executive Officer of B'nai Brith Canada. "In order to maintain that positive image, the City must ensure that all Canadians – including Canadian Jews and Israelis – can feel safe in its public spaces.
"There can be no place for antisemitism or support for terrorism in our society – and Mississauga Mayor Bonnie Crombie should make that clear."