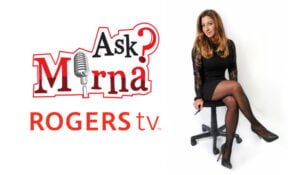 By Aidan Fishman
Campus Advocacy Coordinator
B'nai Brith Canada
Rogers TV, which runs community programming throughout Canada, has pulled the plug on an Arabic-language show called AskMirna after B'nai Brith Canada drew its attention to antisemitic messages promoted in the program.
AskMirna, which describes itself as "presenting an accurate, positive, inspiring and entertaining image of the Arab-Canadian community," dedicated an entire episode to "Nakba Day," in which Palestinians annually mourn the establishment of the State of Israel and call for its destruction. This included an interview with Nazih Khatatba, who described Jewish suffering as "fairy tales" and engaged in Holocaust denial.
Khatatba, a leader of Palestine House in Mississauga, Ont. has a history of inciting violence against Jews. In December, 2014, he lauded the terrorists behind the Har Nof synagogue massacre in Jerusalem that left six dead in his al-Meshwar newspaper. The incident was later investigated by the Canadian Security Intelligence Service (CSIS).
In other episodes of AskMirna, Palestinian-Canadian children are shown dancing to songs that praise terrorism against Israel, which is labelled "the rapist entity."
"Antisemitic propaganda delivered through music and television is rampant in the Middle East, and constitutes a significant barrier to peace between Israel and the Palestinians," said Michael Mostyn, Chief Executive Officer of B'nai Brith Canada. "We cannot allow such hatred to be imported into this country, potentially radicalizing Canadian youth."
Colette Watson, Senior Vice-President of Television and Broadcast Operations for Rogers Communications, told B'nai Brith that "…there is no room on Rogers TV, community television or anywhere in Canadian media for hate of any kind."