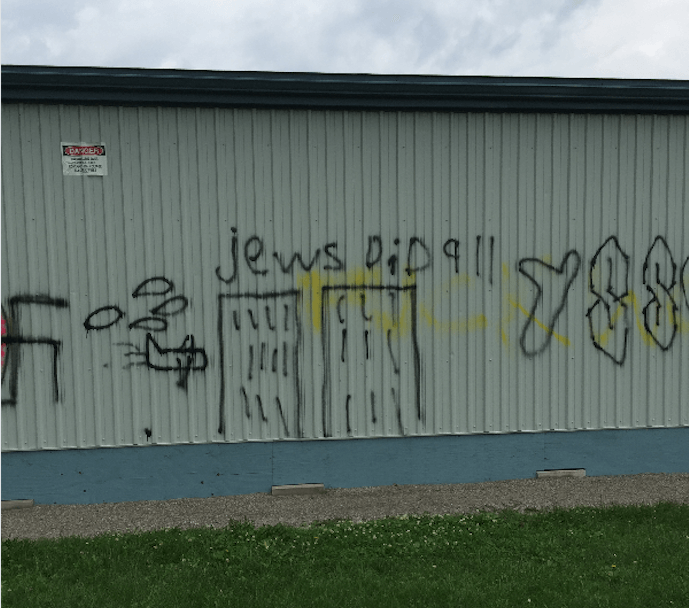 Nov. 28, 2017
By Aidan Fishman
Interim National Director of the League for Human Rights
B'nai Brith Canada
OTTAWA – A report released by Statistics Canada Tuesday reveals a significant increase in hate crimes targeting Canada's Jewish population in 2016.
According to Tuesday's report, antisemitic hate crimes rose from 178 incidents in 2015 to 221 incidents in 2016 – an increase of 24 per cent. The most worrying increases were in Ontario (+41), Quebec (+11) and Manitoba (+7). This stark upsurge in hate crimes targeting the Canadian Jewish community greatly outpaced the proportionally smaller rise in similar incidents in the United States.
These figures are consistent with B'nai Brith Canada's 2016 Audit of Antisemitic Incidents, which documented the highest levels of nationwide antisemitism on record, since the establishment of the Audit in the mid-1980s.
"Today's newly-released figures confirm that antisemitic hate crimes are an increasingly serious problem in Canada," said Michael Mostyn, Chief Executive Officer of B'nai Brith Canada. "Canadians from coast to coast have seen the swastikas, heard the anti-Jewish hate speech, and now have access to the statistics as well. B'nai Brith will continue to expose antisemitic hate crimes where and when they occur, working with police, prosecutors and government officials to ensure that the perpetrators are brought to justice.
"We commend Statistics Canada for this early release of summary data, which will surely aid both government policy-makers and advocacy groups in tackling the persistent scourge of hate crimes."
The overall number of hate crime incidents also increased slightly from 2015 to 2016, rising from 1,362 to 1,409, for an increase of 3.5 per cent.