rescue in the Philippines
Documentary of a hidden chapter of history
April 13, 2022 – 7:00 pm EDT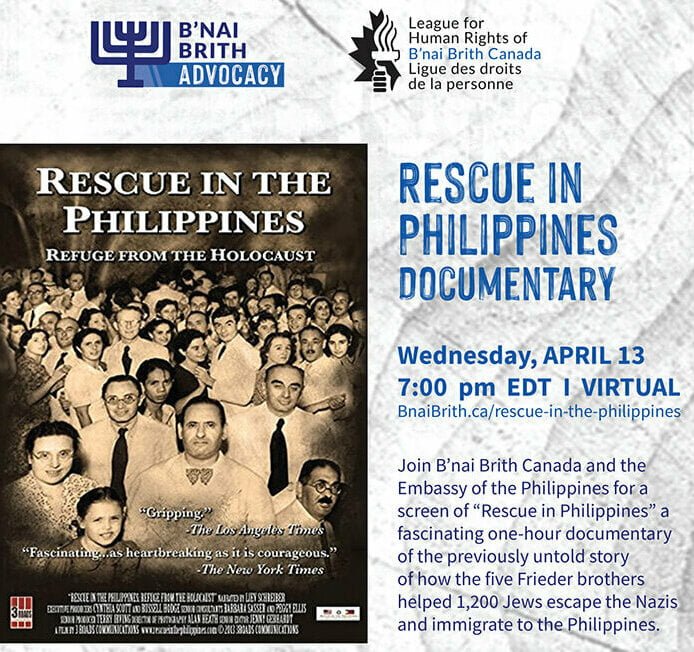 It is the late 1930s. A shadow of darkness has fallen over Germany. That shadow expands to absorb Austria and Czechoslovakia. Europe fears an imminent World War.
Faced with persecution and deportation to concentration camps, Jews desperately seek safe haven. After Kristallnacht, November 9 -10, 1938, the situation becomes even more desperate.
But in their moment of need, Europe's Jews find few friends. The doors of the nations of the world are closed to refugees. Few are able to obtain visas. In June 1939 Canada joins the United States in refusing sanctuary to the 908 Jewish passengers aboard the M.V. Saint Louis. The ship returned to Europe. Most of the passengers would perish in the Holocaust.
But there was a beacon of light and that is the Philippines. Its President Manuel Quezon grew increasing alarmed at the events in Europe tells his countrymen it is their duty to help. Quezon sees the rising tide of antisemitism and asks the Philippines Congress to decree an Open Door policy. He asks that the Philippines issue 10,000 visas.
A Commonwealth, not yet fully independent and under American stewardship, Quezon succeeds in issuing only 1300 life saving visas to Jews from Germany, Poland, Austria, Hungary, the former Czechoslovakia, Russia, Italy, Latvia and Bulgaria – who came to be called the "Manila-ners" – and who eventually found their way to the Philippines.
Quezon's decency and generosity launched an on-going warm friendship between the Filipino and Jewish people. The Philippines would vote in 1947 to recognize the independence of Israel and the rebirth of the Jewish state.
Yet this remarkable story is little known, a hidden chapter of history. It is a story that the public needs to know better.
On April 13 at 7 p.m. E.D.T. please join us for a special evening as we screening the documentary "Rescue in the Philippines" that takes us back to those desperate times and allows us to learn about this remarkable story.
Viewers will be greeted by Philippines Ambassador to Canada Rodolfo Robles, B'nai Brith CEO Michael Mostyn and League for Human Rights National Director Marvin Rotrand