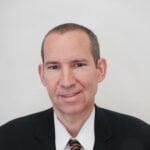 June 2, 2017
David Birnbaum became an elected official in the spring of 2014 when he was tapped by then Quebec Liberal Party leader Philippe Couillard to succeed Lawrence Bergman as the candidate and ultimately the Member of the National Assembly for D'Arcy McGee. I always used to call Bergman the de facto Minister of Jewish Affairs. I think Birnbaum has now earned that title as well.
Birnbaum was a former executive director of the Canadian Jewish Congress in Quebec. Prior to his dive into politics, he had run the Quebec English School Boards Association. He has always been a good point man for the Jewish community, meeting often with organizations like B'nai Brith Canada, and retains a very close relationship with the Premier. Over the years he's brought Couillard to Yom HaShoah ceremonies and just recently to speak to the Côte Saint-Luc Men's Club.
Well, Birnbaum's star has certainly risen in the Jewish community following the recently completed and unprecedented Couillard mission to Israel. More than 100 business people and representatives from research institutes and universities from Quebec were part of the mission.
Daily Updates on Facebook
For folks like me, Birnbaum made following his trip pretty easy, posting updates in both French and English to his Facebook page on the daily.
It all began as every government mission poignantly does, with a solemn visit by the Premier and his delegation to Yad Vashem. Day Two featured detailed briefings on technology, academia and entrepreneurial challenges. The participants represented an impressive coalition of forward-thinking leaders, with interest in pursuing links with both Israel and the Palestinian Territories.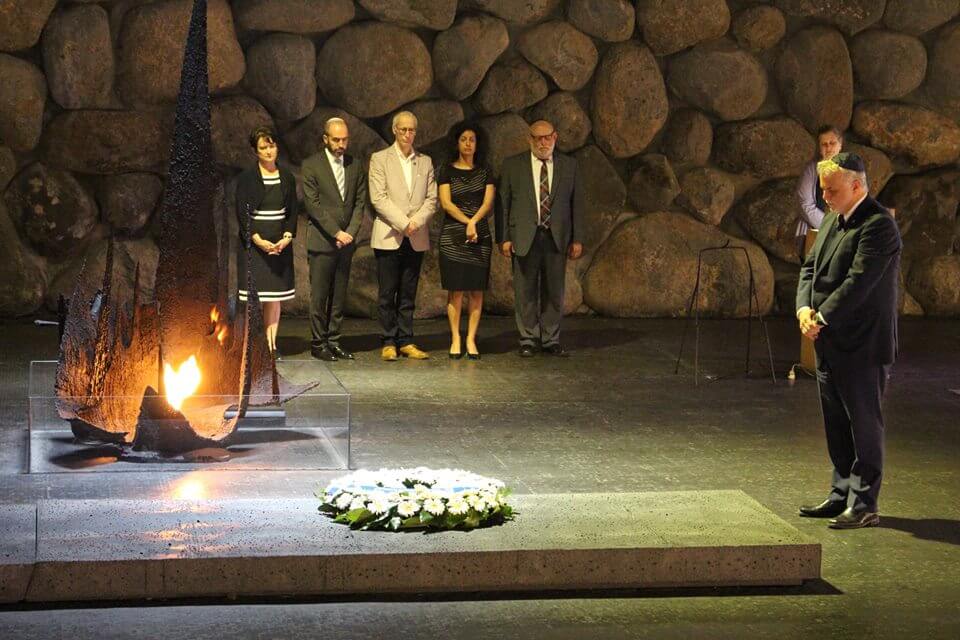 Day Three featured a dynamic series of morning meetings in Jerusalem. The Premier, Minister of Economy and Science Innovation Dominique Anglade and Birnbaum met with the dynamic CEO of Mobileye, an Israeli success story that furnishes, incredibly, some 95 per cent of automakers with electronic collision-prevention technology. "We had a promising discussion about a developing partnership with Quebec," said Birnbaum. "We then met with the Israeli Economy and Industry Minister."
On Day Four, Birnbaum declared that, "Our government is planting some quality seeds in Israel and the Palestinian Territories that I have every confidence will flower over time. We are doing so with the superb cooperation of Canadian Ambassador Deborah Lyons and her staff, Israeli Consul General Ziv Nevo-Kulman and his staff."
Bombardier railway maintenance
Birnbaum was especially pleased with the delegation's visit to Quebec-based Bombardier's joint railway maintenance and upgrade facilities in Haifa. From there, a high-tech talk with former Montrealer and online venture capitalist Lenny Roth took place. His "Our Crowd" consortium is making waves around the world for its start-up support and promotion. The Premier spoke on a panel with Roth, Minister Anglade and Our Crowd's business development officer about high-tech development, promotion and support as Mission participants from the field in Quebec listened and asked questions. L'École des Hautes Études Commerciales then signed a collaboration agreement in the presence of the Premier.
David Azrieli
On Day Five in Tel Aviv, the delegation visited Deloitte-Israel Headquarters, housed in the well-known "Triangle" Building built by the late David Azrieli. He is equally remembered as a builder, philanthropist, Holocaust remembrance champion and Jewish community leader in Quebec and in Israel.
In Tel Aviv, the Premier received the President's Award – Tel Aviv University's highest recognition – before McGill Principal and Vice-Chancellor Suzanne Fortier (who attended the Mission as well) signed a renewal agreement in research between the two universities. The delegation also participated in a ceremony to underline the construction of a new school pavilion of Architecture at Tel Aviv, dedicated by the Azrieli Family Foundation. Naomi Azrieli was on hand, speaking eloquently on behalf of her two sisters and her late father.
A luncheon and conference hosted by the Canada-Israel Chamber of Commerce took place, at which time the Premier's remarks and those of Minister Anglade were appreciated by the audience. Birnbaum said he was honoured to preside over a signing ceremony including 10 partnership announcements and four ententes initiated by Concordia, McGill, Université de Montréal and Israeli partners Hebrew University, Ben Gurion University and Technion Institute.
The following day began early with two detailed round-table sessions involving the aeronautics sector and life sciences sectors. "Both are emerging strengths in Quebec as in Israel," said Birnbaum. "The Premier and Minister Anglade listened carefully and intervened often on discussions about how to better commercialize discoveries and innovations, where our government can better set the table for investment and growth and how the particular strengths of players in Israel and Quebec can be brought together."
Couillard and Birnbaum Make a Hockey Connection
Next, it was time for the hockey experience at the Holon Ice Peak to share in the success of Montrealer Sidney Greenberg's dream: the Canadian Israel Hockey School.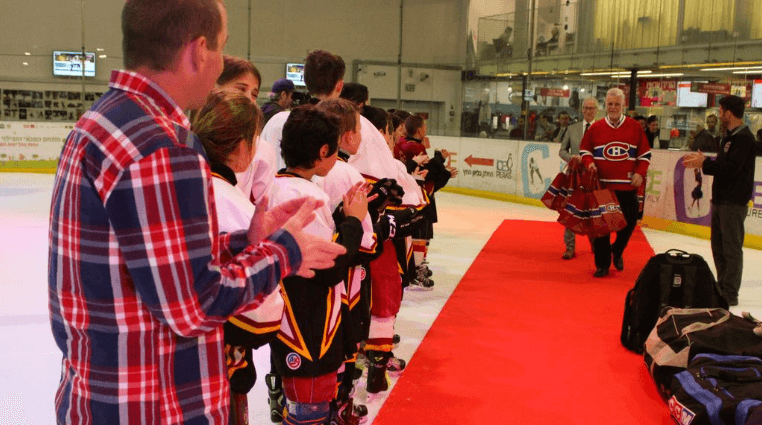 "More than 450 young Israelis, Jewish, Arab Christian and Druze, come together to play and learn in the language we all share and understand – hockey," said Birnbaum. "The exercise changes children's lives, and the Premier and I both acknowledged that in the ensuing scrum with Quebec journalists. I joined the Premier in donning skates, with both of us succeeding in remaining upright, and thus avoiding a diplomatic incident."
Not part of the headlines was a huge assist Couillard and Birnbaum provided to The Canadian Friends of the Israeli Ice Hockey Association (CFIHA). The latter was founded in Montreal in 1991 by David Lisbona and Larry Markowitz. Since its inception, the organization has sent hundreds of pounds of ice hockey equipment to Israel and in the early nineties, published a newsletter entitled The Hockey Shtick. The association continues to collect equipment for hockey programs in Israel through its collection box situated at the Samuel Moskovitch Arena in Côte Saint-Luc, a predominantly Jewish district in Montreal.
Lisbona said that the Couillard "team" was kind enough to assist in getting about 500 pounds of equipment to the Canada-Israel hockey school via their plane.  It was a delight working with them," Lisbona said. "Air Canada Cargo and the Canadian embassy in Tel Aviv could not have been more accommodating!"
In all, seven bags of hockey equipment were shipped to Israel. This included everything from goalie pads, skates, pucks, gloves, socks, helmets, pants and neckguards.
Meeting with Netanyahu
Naturally one of the highlights of the Mission was a historic meeting with Prime Minister Benjamin Netanyahu in Jerusalem.
"During the focused and productive 40-minute session, the Premier quickly reviewed our mission, and the concrete and substantial exchanges that marked each of our six days of meetings," Birnbaum explained. "The Prime Minister reacted positively when Premier Couillard raised a cornerstone issue for the mission: Quebec's wish to work towards a specific entente with Israel on Artificial Intelligence and Big Data."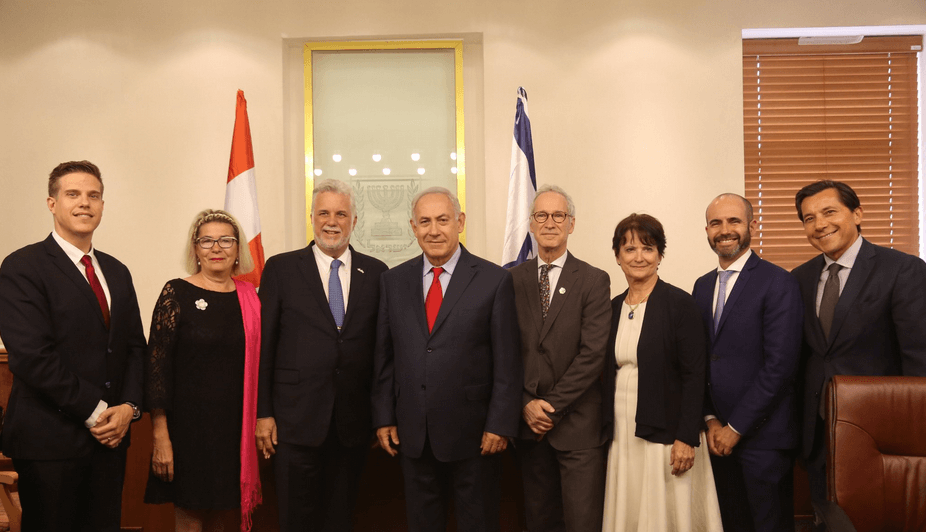 He continued: "Quebec is charting a leading course on the world stage in these sectors and both men understand the importance of them to future economic and social progress. The Prime Minister reacted with enthusiasm; in fact, he directed his aides to ensure prompt follow-up. The two leaders then had a constructive exchange on the prospects for peace. Mr. Netanyahu expressed his appreciation for our efforts to support educational and economic exchanges, advanced during our day of visits to the Palestinian Territories. There was a mutual understanding that economic growth and educational progress will be key to lasting peace. The Prime Minister also reacted positively to the suggestion that Israel now reciprocate with a similar return mission to Quebec."
Bravo Mr. Couillard and Mr. Birnbaum and a tip of the hat to Israel Consul General Ziv Nevo Kulman who played a critical role in the execution of the mission as well.
Mike Cohen is B'nai Brith Canada's Quebec news bureau chief, a veteran writer and municipal politician. He can be reached at [email protected]. Follow him on Twitter @mikecohencsl