The opinions, facts and any media content presented do not necessarily reflect the position of B'nai Brith Canada.
Jan. 26, 2018
MONTREAL – On Jan. 24, at Paperman and Sons in Montreal, Canada's most prominent Jewish sports writer was laid to rest.
Saul "Red" Fisher was 91 when he passed away on Jan. 19, only 10 days after his wife Tillie died. They were together 70 years and, as Rabbi Boruch Perton noted at the funeral, Red took his last breath at the exact same time as his dearly departed wife.
Red and Tillie were members of Beth Zion Synagogue in Côte Saint-Luc. Tillie was exceptionally involved in the shul, while the couple's son, Ian, had his bar mitzvah there. When the synagogue held a Sports Celebrity Breakfast that I emceed more than 20 years ago, it was Red who brought Mathieu Schneider, a Jewish defenceman for the Montreal Canadiens, to the event.
In 1999, Red was inducted into the International Jewish Sports Hall of Fame. In 2013, he was chosen (by yours truly) to receive the Larry Fredericks Media Award at the Cummings Jewish Centre for Seniors. My father, Lawrence Frederick Cohen, had a decades-old relationship with Red. I basically knew him my whole life.
Red began covering the National Hockey League and the Montreal Canadiens in 1954. He only retired in 2012, at the age of 85, to spend more time with his wife who had been in poor health for a number of years. In 1985, he was inducted into the Hockey Hall of Fame and just a few weeks ago, he was named to the Order of Canada.
Red began his writing career for the Montreal Star. When the paper shut down in 1979, he moved to the sports editor's desk at the Montreal Gazette, where he continued to cover NHL hockey in addition to his editorial duties. The nickname "Red" came from the colour of his hair as a young man.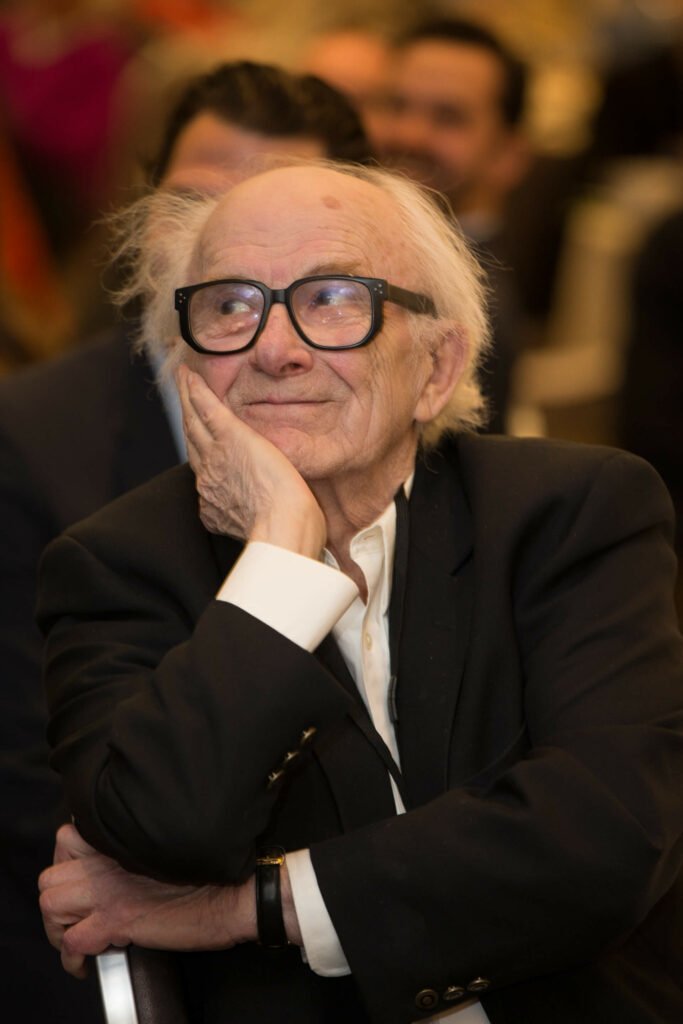 "For more than 50 years, in his beloved Montreal, Red Fisher was unrivalled in hockey journalism — the authoritative English voice of news about the Canadiens and the National Hockey League," the NHL's Jewish commissioner Gary Bettman said in a statement. "Red had a remarkable passion for the sport and a remarkable compassion for the men who played it. Red's words were important because nobody knew the game or the players or the executives better.
"In addition to being a master storyteller, on a personal level, he was a friend and counsellor. He was a monumental presence in our world and the NHL family grieves his passing. We send condolences to his family, friends and all who were touched by him."
Michael Farber, a Jewish Sports Illustrated contributor and former longtime columnist at the Gazette, where he met Fisher, called him a "titan" of industry. "He had the respect and, dare I say, a little bit of fear from the players," Farber said. "He was the best game story-writer that we ever read. These weren't typical game stories, these were novellas. These were 800 words of plot and characters and heroes and villains. He made the game come alive."
Former Canadiens players Serge Savard, Rejean Houle, Ken Dryden, Rick Green and Chris Nilan were among those on hand for Red's funeral, along with a strong turnout from the local sports media.
Rabbi Perton said that Red had contemplated retirement earlier than six years ago to take care of his wife. That is when his daughter Cheryl stepped in, insisting that Red continue to do what he loved and moving into the house permanently as a caregiver. Ian, who resides in San Francisco, said he spoke to Red by phone and saw him in person as often as possible.
"My father was fiercely competitive and he loved getting the scoop before others," Ian said. "Our father not only liked writing stories; he liked telling stories. My father demanded excellence in everything — in hockey and writing, art, music, friendship."
Red Fisher (right) at the 2015 Cummings Jewish Centre for Seniors seen here with former Canadiens star Peter Mahovlich and legendary broadcaster Dick Irvin.
I have my own story to tell about Red who only warmed up to me in the last 10 years. When, at the age of 18, I had the opportunity to start covering professional sports for The Sunday Express and United Press International. There I was, in the press box, with journalists that I had grown up with. Red, of course, was one of them. However, no matter how hard I tried to have a conversation with him, I struck out.
Then, on Saturday, Nov. 23, 1983, after the Canadiens defeated the Calgary Flames 4-3 at the Forum, I was walking to my car through the Alexis Nihon Plaza/Westmount Square tunnel when I bumped into Red. I offered him a lift home and we had the most wonderful conversation. For the first time I felt like I had truly gotten to know him. Many of the questions I always wanted to ask, he responded to. I went home elated.
The next day, I ran into Red at the Grey Cup game at Olympic stadium between the B.C. Lions and the Hamilton Tiger Cats. This time, he completely ignored me when I said hello. I never quite forgot that moment. Several decades later, my now late father was not well. It was a Spring afternoon and the Canadiens had a playoff game against Pittsburgh. For some reason, I ended up at the Côte Saint-Luc Library and who walked up to me other than Red?
"How is your father?" he asked.
When I got over the shock that he was actually speaking to me, we carried on a chat for nearly half an hour. At one point I asked, "Why are you not watching the game?" to which he responded, "It is more productive to be here at the library."
From that point on a new bond had developed between Red and I. He gave he his private email address and we corresponded. When I saw him at my annual Bell Centre press box visit, he gave me a warm greeting and, at my dad's funeral five years ago, he came to the back room at Paperman and Sons and expressed condolences to each member of my family.
Soon after Red retired from the Gazette in 2012 I invited him to the library for a surprise. Wearing my hat as a city councillor in Côte Saint-Luc, we named our section of sports books after him. He was absolutely honoured.
Watching Red cover a Habs game in the press box was something else. He generally paced back and forth, barely taking notes. Sometimes he would even slip into the press room while the game was in progress. In the locker room he had one strict rule: he did not talk to rookies. I loved watching him fire questions away to the players, coaches and GMs and see the respect he commanded.
I am glad I had a chance to get to know the real Red Fisher. My sympathies go out to his family.
Mike Cohen is B'nai Brith Canada's Quebec news bureau chief, a veteran writer and municipal politician. He can be reached at [email protected]. Follow him on Twitter @mikecohencsl.