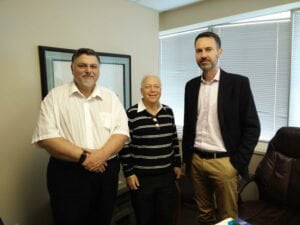 By Tevy Pilc
Staff Writer/Researcher
B'nai Brith Canada
In stark contrast to the radical Islamic and far left-wing promulgation of antisemitism in France, it's a newly revived far-right movement that's led to the promotion of modern Jew hatred in Poland, according to a board member with B'nai Brith Poland.
In a recent visit to B'nai Brith Canada's office in Montreal, Frank Telling-Saphar shared an enlightening perspective on the state of modern antisemitism in Poland. "From the time I moved to Warsaw 11 years ago, big developments and changes occurred in Poland," Telling-Saphar said. "The ruling Civic Platform party had brought a sentiment of peace, which included initiatives in combating antisemitism."
But he says things changed in 2015 when the conservative Law and Justice Party came to power.
"They brought back a sort of "National Socialist" revolution where the church became front and center in the middle of public life," said Telling-Spahar. "All of a sudden, this pre-World War II-like atmosphere of hostility became commonplace."
Telling-Saphar was born and raised in France but left for Poland as a student. He later returned to France and eventually made the permanent move to Poland where he started his own business.
Telling-Saphar referred to the burning of an effigy of an ultra-Orthodox Jew holding a European Union flag by anti-migrant protesters in Wroclaw in November 2015.
"Poland is still very homogeneous," Telling-Saphar said. "People are scared. They don't want refugees; they don't like European cosmopolitan culture or the European Union, even though they get money from them. Jew-hatred is lumped in with the rest of these hatreds."
Telling-Saphar says he's one of about 50 B'nai Brith members in Poland, which includes a lodge in Warsaw. An estimated 25,000 Jews live in Poland.
Israel and Poland, however, share a strong diplomatic and commercial relationship. Poland's Foreign Minister Witold Waszczykowski (at the time of this writing) is in Israel to meet with Prime Minister Benjamin Netanyahu and other dignitaries.
Tevy Pilc can be emailed at: [email protected]
Editor's Note: Tevy Pilc is B'nai Brith Canada's new writer/researcher. He is part of our new and improving Communications Centre. Anyone with news tips or ideas should feel free to e-mail Tevy, Chief Media Officer Marty York at[email protected]