Petition to the Green Party of Canada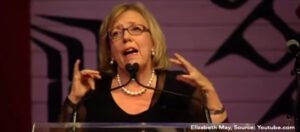 On June 22, 2016, B'nai Brith Canada issued a statement informing Canadians about two anti-Israel motions being proposed at the Green Party's convention in August, one of which is co-sponsored by a representative from Independent Jewish Voices (IJV), while the other was submitted by an IJV member. IJV, as has been previously exposed by B'nai Brith Canada, has ties to Holocaust denial, white supremacists and the despotic, terror-supporting and human-rights-abusing Iranian regime.
On June 23, Elizabeth May issued a mass email, responding to the Jewish community's concerns. Her email can be read here.
Unfortunately, May's email is filled with half-truths and inaccuracies, and we are duty-bound to set the record straight.
May claims she has never singled out Israel for scrutiny in Parliament. This is patently untrue. In fact, when Parliament convened in February of 2015 specifically to discuss the global rise in antisemitism, May's sole contribution to the debate was to argue that criticism of Israel should not be considered antisemitic – citing Independent Jewish Voices (IJV) to support her views. As revealed by B'nai Brith Canada, IJV has promoted Holocaust denial, endorsed 9/11 conspiracy theories and has glorified the late Iranian dictator, Ayatollah Khomeini, drawing the ire of Iranian pro-democracy activists. page doesn`t exist anymore Clearly, May cannot distinguish between legitimate critics of the Jewish State and outright antisemites.
In her response, May hides behind procedure to excuse antisemitism within her party, insisting that there is no screening process for motions at the convention. That may be true, but it is irrelevant given that May herself is co-sponsoring the anti-JNF motion in conjunction with Corey Levine of IJV, while her own Justice Critic, Dimitri Lascaris, submitted the motion calling for a boycott of Israel. She cannot distance herself from this motion, claiming it to be simply a product of a democratic party policy, when she herself is the co-sponsor.
Finally, since March 30, May has championed a parliamentary petition to reverse the Government of Canada's rejection of the Boycott Movement. She is under no obligation to do so, and the petition itself was created by an individual in Ontario, and not one of her constituents.
May says, in her email, that: "The Green Party of Canada opposes the use of Boycott, Divestment and Sanction tactics to influence the policies of the Netanyahu government. Some members wish to change that policy." B'nai Brith Canada is calling upon Elizabeth May to once and for all, clarify if SHE is one of those members. If she does not support the antisemitic motions up for debate, she must immediately withdraw herself as co-sponsor and join her parliamentary colleagues in condemning the anti-Israel boycott movement as the antisemitic action that it is.
In light of all of the above, we the undersigned call upon Elizabeth May to:
a) Immediately withdraw the antisemitic anti-Israel motions scheduled for discussion at the Green Party convention in August;
b) Issue a formal apology to all Canadians for her disingenuous email reply;
c) State, once and for all, her position on the antisemitic Boycott & Sanctions movement;
d) Disavow all Green Party affiliations to Independent Jewish Voices.
965 signatures