Trent Arthur
October 24, 2023
https://www.trentarthur.ca/news/peterborough-formally-supports-bnai-briths-call-to-action-and-the-great-pickleball-debate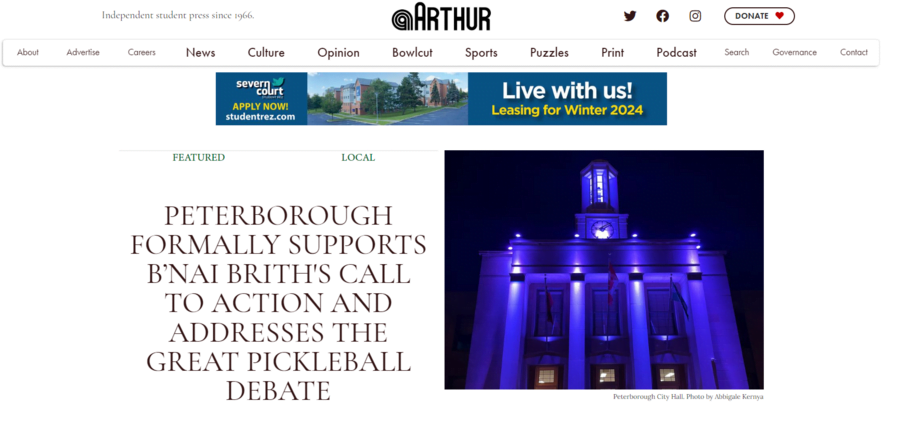 Mayor Jeff Leal brought forward a motion of support for B'nai Brith's demand for the release of the Deschenes Commision Report in its entirety.
Every item on the agenda was passed unanimously, with Duguay abstaining due to a conflict of interest on item 10.a.1, a Zoning By-law amendment for 889 Western Avenue.
Following former Speaker of the House, Anthony Rota's welcoming of a Nazi war criminal in the House of Commons, B'nai Brith—Canada's oldest independent Jewish human rights organization—put forward a demand that the Deschenes Commission Report be released in its entirety to the public in order to restore public faith in Parliament.
The Deschenes Commission was created in 1985 by the Federal Government to determine the number of Nazi war criminals residing in Canada and establish legal measures to prosecute any found.
The statement released by B'nai Brith states that thousands of Nazis were knowingly permitted to stay in Canada and "Canadians deserve to know the full extent to which Nazi war criminals were permitted to settle in this country after the war."
The Deschenes Commission's Final Report has remained largely redacted since its establishment.
The motion of support to the General Committee Meeting stated Peterborough's solidarity with B'nai Brith, and that Peterborough City Council supports the request for the immediate release of all documentation pertaining to the 1986 Commission of Inquiry on War Criminals in Canada, including an unredacted copy of the final report.
"We're all aware of the incident that occurred in the House of Commons a number of weeks ago. And B'nai Brith, of course is moving these motions across Canada. And we're all aware of the rise of anti-semitism in North America and indeed in many of our communities. So I wanted to bring this motion forward and to move it on to the Parliament of Canada," said Mayor Jeff Leal.
The motion was passed unanimously with a copy of the motion to be sent to the Minister of Justice and Attorney General of Canada, Arif Cirant and the President of the Treasury Board, Anita Anand.