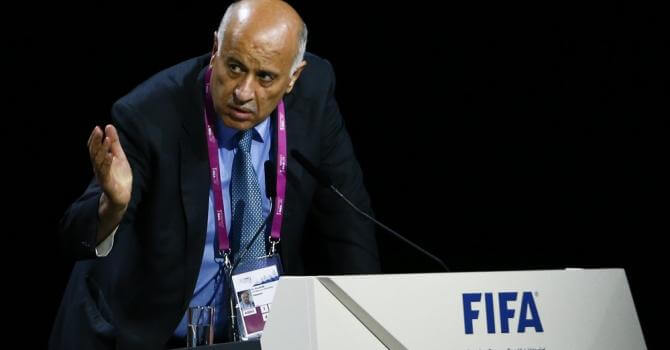 By Jordan Zaitchik
B'nai Brith Canada
Far-left, political activist group Gush Shalom and Palestinian official Jibril Rajoub have called on Israel to ban its soccer clubs in Judea and Samaria. Gush Shalom has threatened to get Israel expelled from Fédération Internationale de Football Association (FIFA) if it does not disband the clubs.
On July 26, founding member of Gush Shalom Adam Keller released a statement on The Pulse calling for Israel to be denied participation in FIFA. Earlier this year, Gush Shalom launched its campaign 'Give Settlements the Red Card' on Avaaz, an online activist network. The campaign demands that the Israeli Football Association disband its six soccer clubs in Judea and Samaria, calling them "illegal outposts" and "an obstacle to peace". Since its launch the global campaign has received nearly 150,000 signatures.
The statement reads, "According to FIFA regulations, every soccer team which is located on land belonging to a certain country needs to play in that country's league. Therefore, teams located in settlements on land belonging to the state of Palestine need to play in the Palestinian league. The very fact that they play in the Israeli league is a violation of FIFA regulations. They would have needed to obtain special dispensation from the Palestinian league, and no such dispensation was ever even sought, never mind granted."
Keller also mentions the campaign was inspired by Rajoub, who called for Israel's expulsion from FIFA in May 2015 during FIFA's annual congress in Zürich. Rajoub was a terrorist and Palestinian politician for several decades before he became the President of the Palestinian Football Association. He was detained for terrorist activities,  including a grenade throw at an Israeli army bus.
Rajoub is renowned for his outspoken hatred for Israel and glorification of terrorism.
Keller agrees with Rajoub's demands for ousting Israel. He praised his efforts in fighting for "peace" and "justice" for the Palestinian players.
Gush Shalom is an extra-parliamentary organization in Israel and it is not aligned with any political party nor does it specifically endorse one. On its Facebook page, Gush Shalom calls itself "militant" and "radical." The group claims to have "played a leading role in determining the moral and political agenda of the peace forces in Israel." Gush Shalom says it aims to break "the so-called 'national consensus' based on misinformation." In Israel, the organization has been criticized as a "lunatic fringe" as well as promoting Communism.