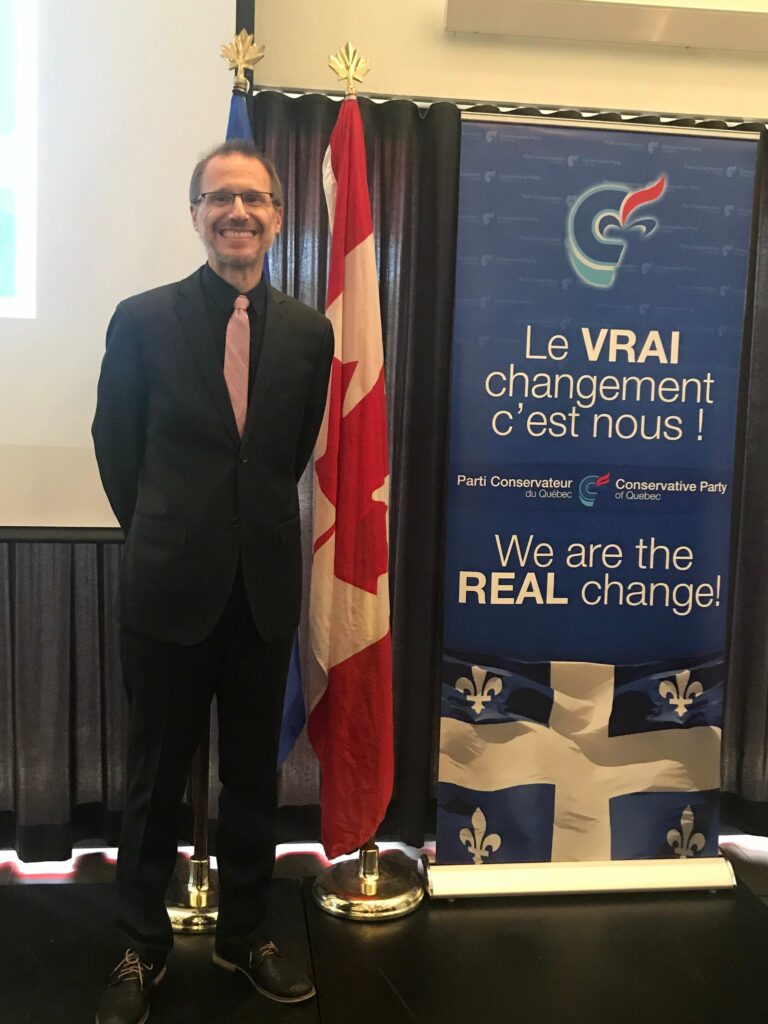 Sept. 4, 2018
QUEBEC CONFIDENTIAL | By Mike Cohen
B'nai Brith Canada
The following is the second of four profiles on Jewish candidates running in the Quebec provincial election. For the first, click here.
MONTREAL – With the Quebec election campaign now officially underway, some more Jewish candidates have stepped up to the plate.
B'nai Brith Canada recently reported that Laura Azeroual, a young Sephardic Jew, will represent the Coalition Avenir Québec (CAQ) and challenge Finance Minister Carlos Leitão in the West Island riding of Robert Baldwin.
In the riding of Mount Royal, Liberal Environment Minister Pierre Arcand has a Jewish opponent in freelance photographer Yanky Pollak of the Conservatives.
David Birnbaum, the only elected Jewish Member of the National Assembly and who represents D'Arcy McGee for the Liberals, will seek another term. While the area is a Liberal stronghold, Birnbaum is being opposed by two Jewish candidates: Melodie Cohn of the CAQ and Yaniv Loran from the little-know Quebec Conservative Party.
While the Quebec Conservatives have never gotten any traction in the province, Loran, a 58-year-old Orthodox Jew and father of three, says he is already getting a warm response on the campaign trail. "I would not vote against me now," he said. "So many people have already confided [to me] that they don't know how to vote but now see the Quebec Conservatives as a safe party…"
A statistician at Miriam Home and Services, which caters to individuals with intellectual handicaps, Loran got his first taste for elected politics in 2015 when he worked on Robert Libman's federal Conservative run in Mount Royal. He jumped in the fray again last fall when his college-age son ran for a seat on Côte Saint-Luc City Council. "I actually wanted him to run for the Conservatives," he said, "but he convinced me to do so."
Loran is only now becoming comfortable on social media. On Facebook, he was asked why someone would vote for a political party that has no seats and, statistically, no chance of winning.
"You should go out to vote for a political party because you like what the party stands for, you believe it has the requisite skills to manage the province and you trust that it has the integrity necessary to govern," he said. "One attribute without the others simply doesn't cut the mustard and voting for a party that has none is incomprehensible. Therefore, the party to vote for is the one that is the best alternative."
Loran added that his party has the "requisite skills to manage the province," listing a slew of attributes: political liberty, personal freedom and personal responsibility, religious freedom and freedom of self-expression, respect for social and political order, equality of opportunity, and "a free and independent media, all under a just and evenhanded rule of law."
He also said that all branches of government must always be "transparent, accountable and responsive."
Loran criticized the PQ resolution in the National Assembly stating that merchants should not greet customers with the words "Bonjour! Hi!" but rather "Bonjour!" "I for one will never sacrifice my convictions and the will of my constituents on the altar of political expediency," he said.
As for the concerns that the Quebec Conservative Party has no seats, he said, "The PQ once upon a time had no seats and then one day, boom, they were in power and presented us with not one, but two referendums. The Union Nationale once upon a time had the majority of seats; where are they now? We are a brand new party. Today we have no sitting members. Come Oct. 2, this will no longer be the case because I for one will win my riding."
For more on Loran, click here.
Mike Cohen is B'nai Brith Canada's Quebec news bureau chief, a veteran writer and municipal politician. He can be reached at [email protected]. Follow him on Twitter at @mikecohencsl.