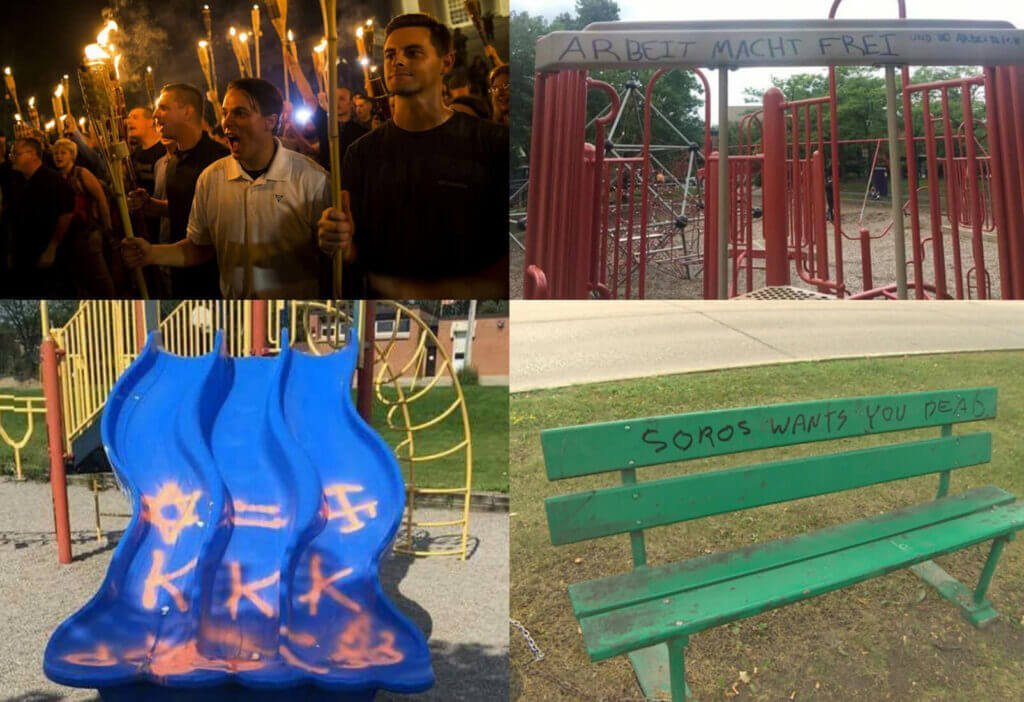 August 25, 2017
In recent weeks, Jewish communities across North America have been left reeling from a renewed wave of public antisemitism.
South of the border, white supremacists in Charlottesville waved the Nazi flag, shouted antisemitic slogans and even killed a woman who dared to protest against them. In the following days, Canadians were treated to antisemitic graffiti near the Jewish Community Centre in Winnipeg, swastikas spray-painted on three schools north of Toronto, and the horrific words "Arbeit Macht Frei" on a children's playground in Montreal.
Now more than ever, B'nai Brith Canada needs your help to expose, document and combat Jew hatred in our country. Giving generously to B'nai Brith helps to make this a stronger reality.

By and large, mainstream media and establishment figures have stood in solidarity with Canadian Jewry against far-right antisemitism. Of course, we appreciate their support.
But it would be a huge mistake to pretend that hatred of the Jewish community in Canada is the exclusive domain of neo-Nazis and white supremacists.
In 2016 – which was the worst year for Canadian antisemitism in decades – our community was victimized by Arabic-language newspapers across Canada, a professor of "Liberal Studies," a former candidate for the Green Party of Canada, and a troubled youth intent on spreading hatred and fear across our nation's capital.
Antisemitism comes from many corners, and often doesn't conform to media stereotypes.
All of these despicable acts deserve our equal attention – and opprobrium. Nothing will stop B'nai Brith from continuing to defend our community.
In just a few weeks, classes will resume at Canadian universities. Last year, at campuses such as York, Ryerson, McGill and the University of British Columbia, we dealt serious body blows to anti-Israel extremists, exposing their hate-filled agendas for all to see.
However, it would be naive to assume that campus antisemitism is gone for good. That's why we're distributing our revamped Campus Guide to students across the country, giving them the legal tools to fight back. The other side is preparing to redouble its efforts, and we must be prepared to do the same.
With your help, B'nai Brith Canada will continue to fearlessly combat antisemitism – in all of its despicable forms, all across our great country. A donation of any sum allows B'nai Brith to continue to spearhead our essential human rights initiatives.
Thank you for your ongoing support of B'nai Brith Canada.
Sincerely,
Michael Mostyn
Chief Executive officer
B'nai Brith Canada