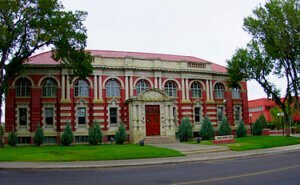 May 4, 2022
MEDICINE HAT –  The father of notorious antisemite Loki Hulgaard, was fined by a judge in Medicine Hat, Alta., on Wednesday for obstructing a police officer in connection with the execution of a search warrant for hate materials on Hulgaard's computers.
Brian Dell – a retired person with an unrelated criminal record – was fined $750 for blocking police from accessing his son's computers in their family home.  He was initially arrested and charged with obstructing police in executing a lawful search warrant at his residence.
For his part, Dell denied blocking police access at his home and claimed he had no time to read their search warrant, and didn't understand that they wanted to seize his son's computers as evidence.
"Justice was done. It is the duty of individuals and communities to cooperate with and unequivocally support police work," said Michael Mostyn, Chief Executive Officer of B'nai Brith Canada. "Loki Hulgaard must face charges that include more than breaching his conditional sentence order alone, since some of the worst antisemitic propaganda ever seen in Canada meeting the criminal threshold was allegedly seized from his computer."
Hulgaard, who was born as Brendan Stanley Dell, was arrested after trying to spread currency defaced with antisemitic messages and was also found to possess firearms and ammunition. He eventually pleaded guilty to promoting hatred and a firearms violation, receiving a one-year conditional sentence, and two years of probation with conditions. Hulgaard was recently charged with violating his conditional sentence by publishing new hate materials.