Montreal Gazette
Published Oct 24, 2023
https://montrealgazette.com/news/local-news/no-need-to-hide-your-religion-police-chief-tells-montreals-jewish-community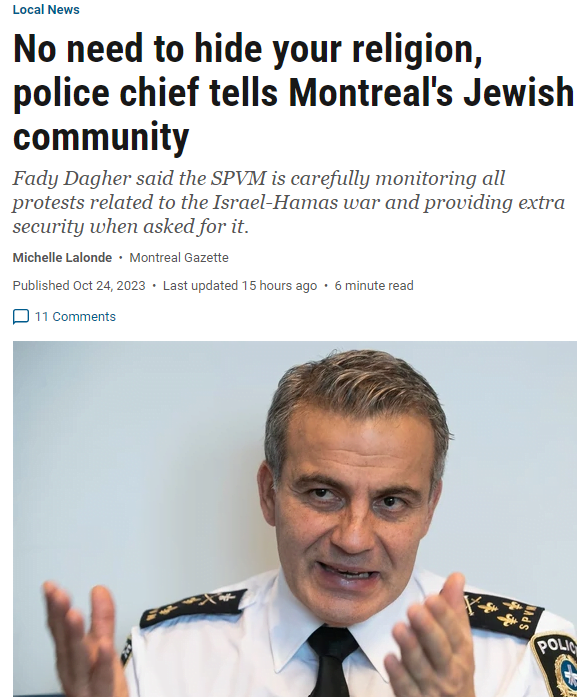 Montreal police Chief Fady Dagher addressed members of Montreal's Jewish community directly Monday, reassuring them that despite local tensions caused by the Israel-Hamas war, they have no reason to hide their religion or change their behaviour in this city.
In a 30-minute information meeting attended via Zoom by dozens of Jewish Montrealers and moderated by Henry Topas, Quebec regional director of B'nai Brith Canada, Dagher said his department is not aware of any organized threat against local communities.
As far as organized threats go, he said, "we have not one threat that we have heard against the Jewish community or the Arab community in the whole country."
"We don't have any organized threats on our radar. But what we are scared about is more the lone wolf, the isolated events. That's something that we are really focusing on with the intel that we have. We are involved with different agencies of the world to try to be proactive, to be vigilant."
Dagher said the SPVM is carefully monitoring all protests and providing extra security whenever and wherever the communities request it.
SPVM spokesperson Caroline Labelle said Dagher has participated in "about a dozen meetings in the last two weeks with members of the different Jewish and Arabic-Muslim communities in order to reassure them and keep them informed of measures put in place by the SPVM," which include a plan for constant police presence around places of worship and other key locations.
On the Zoom call, Dagher encouraged those listening to call 911 if they witness any violent act, or to call their local police station if they witness a non-violent hate incident. The SPVM's specialized hate crime unit, the Module des incidents et des crimes haineux (MICH), will analyze those incidents to determine if charges should be laid. But he pleaded for calm.
"There is a sense of panic, and I understand. I was with the general from Israel and I saw pictures and videos that no human being should see. But please, some people are starting to take the mezuzahs off the door of their houses or they are covering their kippahs with a baseball cap. Don't change your behaviour. … This is my opinion. We have to stay faithful to what we are, what we do, what we believe in, and let the police take care of the rest and protect you."
Dagher said his department has recorded 36 incidents of hate and/or hate crimes in the last two weeks, noting these incidents were "from both sides."
He added that compared to times in the past when international events triggered a surge in hate incidents and crimes in Montreal, the level of actual violence in the past two weeks has been much lower. "There is a lot of talk, but rarely a physical attack on anybody."
Dagher thanked Montrealers for keeping protests peaceful since the war broke out. He said organizers of all protests, rallies and vigils so far have made sure they had plenty of volunteers on hand charged with mediating conflict before it gets out of hand.
When Topas asked him: "Do you find that the other side is perhaps guilty of a hate crime by calling for the death of Israel, the end of the state of Israel?", Dagher refused to answer. Instead, he stressed the peaceful nature of Sunday's protest in downtown Montreal organized by pro-Palestinian groups.
"Between 8,000 and 12,000 people were there and the event went pretty well," he said, "without any violence. And the anxiety, the fear in their community was so high. But they controlled the whole thing.
"But I'm not going to engage in any discussions of my own opinion, because I am the chief of police of the community, the chief of my troops, so I stay very neutral as much as possible."
Topas asked whether police can limit the number of permits granted to the same group for demonstrations. Dagher said no, but added that if a group consistently refuses to collaborate with police, he will order his officers to constrain the demonstration, to make it as short as possible.
"We cannot decide from the beginning to stop it, because we don't know if that day they are going to collaborate."
One participant in the Zoom conversation asked Dagher if carrying a Hamas flag constitutes a hate crime or hate incident. He said it does not, unless the flag is used to physically threaten another person.
Topas asked whether calling for the "globalizing of intifada" constitutes a hate crime.
"I'm not a lawyer — I'm a police officer," Dagher responded. "With freedom of speech and freedom of expression, I am trying to walk a very thin line to convince both sides not to engage with violent groups, not to provoke, not to intimidate. And maybe it's not perfect, but until now, other than some isolated events, during the demonstrations we have had good control."
Tensions have been rising across the city and particularly on Montreal's university campuses since the war began with the Oct. 7 attack on Israel by Hamas.
On Sunday, Anthony Housefather, Liberal member of Parliament for Mount Royal riding, met with a group of Jewish students from McGill and Concordia at McGill's Hillel House.
He said he and other Liberal Jewish MPs across the country have been initiating meetings with Jewish university students to hear their experiences and advise them on how to get help from university administrations or police when necessary.
"In the last two weeks, there has been an … upsurge in antisemitism on campus," Housefather said in an interview, "to the point that Jewish students are sharing their real fears about being attacked by other students, in some cases being made to feel uncomfortable by faculty, walking around campuses as visibly Jewish, and it's totally disconcerting and unacceptable."
Nicole Nashen, a McGill law student who attended Housefather's meeting, said many Jewish students, including herself, have felt "alone and scared" as they read comments by their peers on social media "defending the barbaric attack that Hamas committed" or while witnessing "protests on or around our campuses where our classmates are chanting for another intifada, a violent uprising against Jews and Israelis."
Posters on campus calling for "intifada until victory" are "truly terrifying" to Jewish students, she said. "I should not have to pass by posters calling for violence against me just to get to the library. These posters were a direct threat to me and other Jewish students on campus, in an environment where we have a right to feel safe."
Housefather called on university administrations to ensure all students feel safe on campus, including Jewish students. He echoed the police chief's advice, calling on Jewish students to stay involved in campus life, but to speak out when something happens.
"Don't get into unnecessary fights by going to demonstrations that you're not comfortable around, but at the same time, administrators shouldn't be having that type of demonstration happening on campus grounds, interfering with other students."
Yair Szlak, president and chief executive officer of Federation CJA, a Canadian Jewish fundraising organization, thanked Dagher and his officers for their heavy presence and vigilance at Montreal events since the war began.
He said the CJA has spent thousands on extra security for Jewish institutions recently, including $70,000 to pay for extra security guards at Jewish schools, daycares and synagogues on the so-called "Day of Jihad" on Oct. 13.
Federation CJA is holding a rally to demand Hamas release Israeli hostages, Sunday, Oct. 29 at noon at Victoria Square in Old Montreal.