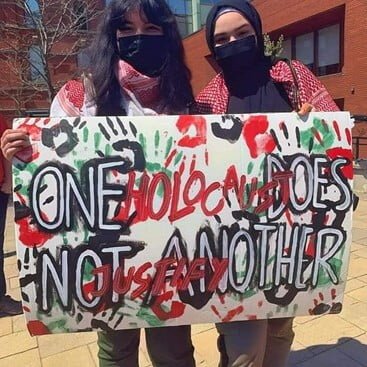 June 2, 2021
FREDERICTON, N.B. – The leader of New Brunswick's Green Party is doubling down on his attendance at an anti-Israel event, held in breach of provincial health orders, where attendees used antisemitic and pro-Hamas rhetoric.
David Coon, whose party holds three out of the 49 seats in the provincial legislature, addressed an anti-Israel protest outside Fredericton City Hall on May 16. He can later be seen standing in the crowd as they chant: "Israel is a terrorist state!" At least one sign displayed at the protest states: "One Holocaust does not justify another."
The International Holocaust Remembrance Alliance's Working Definition of Antisemitism – which the New Brunswick legislature adopted on March 25 of this year – includes "Drawing comparisons of contemporary Israeli policy to that of the Nazis" among its examples of antisemitism.
Coon also appears to have knowingly violated New Brunswick's COVID-19 health measures in attending the protest. Outdoor gatherings in the province are limited to 50 people, but CBC reported that more than 150 people attended the Fredericton protest.
Following Coon, another speaker at the rally praised the indiscriminate rocket fire by the Hamas terrorist group that murdered a dozen civilians in Israel, stating (in Arabic): "These rockets that are launched today allow us to raise our heads [with pride]."
One attendee told a local CBC reporter: "If Hamas wants to send more rockets, if they want to start a war, and other countries help them, I'm totally on their side." Another woman, standing next to her, then added: "Yes, everyone is, definitely."
Oddly, CBC did not include these comments in its story on the protest.
"Last month's fighting in the Middle East unleashed a tidal wave of antisemitism here in Canada," said Michael Mostyn, Chief Executive Officer of B'nai Brith Canada. "Politicians should be doing their part to reduce tensions, not exacerbate them.
"By speaking at a rally where Jews were denigrated and terrorist attacks glorified, Mr. Coon, whether intentionally or not, has provided political cover for antisemitism. He should apologize to the Jewish community without delay."
When contacted by B'nai Brith to suggest that he distance himself from the antisemitic and pro-terrorism sentiments on display at the rally, Coon responded only with the following, rather than addressing the group's concerns:
"I was invited by constituents to speak at a rally organized to protest the excessive violence the Israeli government was using against Palestinians living in Gaza. The bombing and shelling of Gaza, was a disproportionate response by the Israeli government to the rocket attacks on Israeli communities, with predictable consequences for civilians, women, children and families. My remarks concentrated on the need for peace, working to end hate of the other on both sides, and a renewed international effort by our Prime Minister to help bring about the implementation of the two-state solution."
Concerned Canadians can reach Mr. Coon's office at David.Coon@gnb.ca. Please remember to be polite.