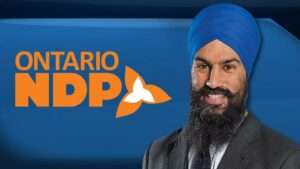 The Deputy Leader of the Ontario NDP booked space for a press conference held last Wednesday at Queen's Park that was aimed at defending controversial teacher Nadia Shoufani, B'nai Brith Canada has learned.
Sources told B'nai Brith that Jagmeet Singh booked the Queen's Park Media Studio for the unusual press conference, which was intended to galvanize support for the Mississauga teacher, who was suspended with pay by the Dufferin-Peel Catholic School Board after she publicly praised past leaders of the Popular Front for the Liberation of Palestine (PFLP), a listed terrorist group in Canada.
Singh, the MPP for Bramalea-Gore-Malton, has not provided an explanation to B'nai Brith for his actions despite the fact that the organization has been calling him and leaving messages since last Thursday.
A press release accompanying the Wednesday press conference claimed that its purpose was to safeguard "the human and political rights of citizens, particularly those of disenfranchised and maligned minorities." The press release also implied that Shoufani's suspension was linked to the motion condemning the anti-Israel boycott movement, which was overwhelmingly passed by the House of Commons in February.
The event was headlined by retired professors Michael Keefer and Graeme MacQueen, and Karin Brothers of the United Church of Canada. Keefer (page does not exist) and MacQueen are both members of Scholars for 9/11 Truth and Justice, while Brothers is a long-time anti-Israel firebrand who spoke at the 2015 iteration of the al-Quds Day rally, the same event at which Shoufani made her terror-supporting remarks one year later.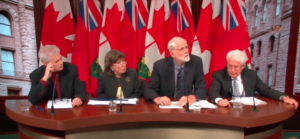 "The press conference organizers claimed to expound on the virtues of freedom of speech, yet shouted down a reporter who tried to ask legitimate questions," said Michael Mostyn, Chief Executive Officer of B'nai Brith Canada. "It is irresponsible for political figures to waste public resources on this nonsense.
"The claims made by the organizers of this event are ludicrous. Shoufani is under investigation by police and by her school board not because she violated some political taboo.
"Our Annual Audit of Antisemitic Incidents has for years shown a clear correlation between incitement against Israelis and discrimination against Jews, the group that suffered the most hate crimes in Toronto in 2015 according to police statistics."