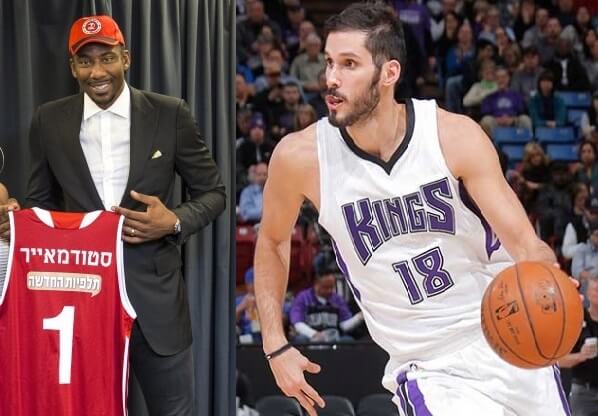 By Tevy Pilc and Jordan Zaitchik
B'nai Brith Canada
Even with the Rio Summer Olympics coming closer to starting, it was basketball in Israel that was making the loudest noise in this week's top hoops headlines.
It began with NBA veteran Amare Stoudemire announcing he is leaving the NBA and joining Israeli team Hapoel Jerusalem. And it will continue later this week as Israeli NBA star Omri Casspi will fly to Israel with an army of sports pros to fight the boycott and sanctions movement.
Stoudemire, who announced his retirement from the NBA last week after 14 seasons (and six all-star appearances), broke the news of his decision to play in Israel in a self-written article in The Players' Tribune. (page does not exist)
"This isn't about collecting a paycheck overseas, though;  it's a spiritual journey, too," wrote Stoudemire. "The Scripture speaks about Jerusalem as a holy place, and I can feel that whenever I'm in the city. This is a chance for me to be a better husband and a better father, to help me lead my family into righteousness. The opportunity to play there, and grow as a player and person, is a blessing."
Stoudemire revealed six years ago that he discovered he had Jewish roots through his mother. Since then, he has embraced and ventured to learn more about those roots, including several visits to Israel. Stoudemire also became part-owner of his current team in Israel. It's a role he'll sacrifice now that he's a player, saying he'll sell his shares of the team to the team's majority owner.
Meanwhile, Casspi will land in Israel on Thursday to kick off a campaign to improve the country's image in the United States and to encourage Americans to fight boycott and sanctions directed towards Israel. He'll be accompanied by many sports stars including fellow NBA players Iman Shumpert, Shawn Marion, Rudy Gay, UFC fighters George St. Pierre, T.J. Dillashaw, WNBA player Alysha Clark, and Jewish American actor Jeremy Piven.
"We worked day and night for this journey," said an enthusiastic Casspi. "We are continuing in our work to change public and youth opinion in the US, to create as positive an image of Israel as possible."
In July 2015, Casspi lead his first week-long boycott and sanctions fight in Israel. Seven NBA players joined him in attending events, touring of Israel, and participating in outreach initiatives. Following the campaign, Casspi founded the Omri Casspi Foundation. The foundation helped raise money for selected non-profits Yad Ezrah Organization (page doesn't exist), Israel Children's Cancer Foundation, and Shalva Organization.