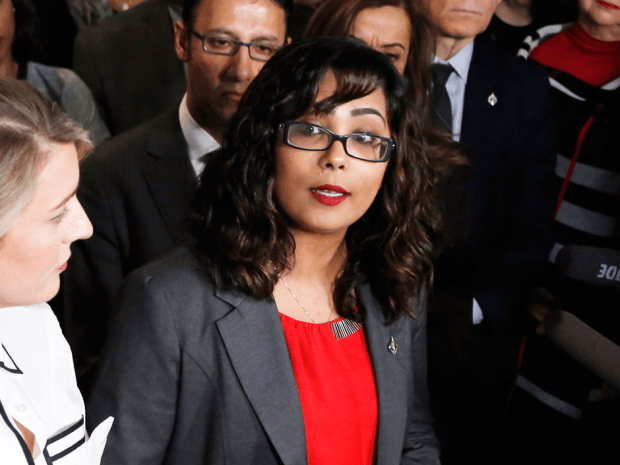 Aug. 16, 2018
By Daniel Koren
Manager, Media Relations & Communications
B'nai Brith Canada
MISSISSAUGA, Ont. – MP Iqra Khalid has rescinded a Certificate of Appreciation to a controversial activist and has apologized for her insensitive actions following intense public pressure.
Her apology and revocation come fewer than 24 hours following a B'nai Brith Canada petition urging her to do so garnered about 2,275 signatures.
SIGN OUR #PETITION: We demand that MP @iamIqraKhalid rescind the Certificate of Appreciation she bestowed to Amin El-Maoued of Palestine House (which lost its funding due to its "pattern of support for extremism") and apologize for her actions. #cdnpoli https://t.co/47v1GzsmDw

— B'nai Brith Canada (@bnaibrithcanada) August 15, 2018
On Wednesday, B'nai Brith issued a press release calling on Khalid, the MP for Mississauga-Erin Mills, to rescind the certificate awarded to Amin El-Maoued, the Public Relations Chief of Palestine House, which lost its federal funding in 2012 because of its "pattern of support for extremism."
El-Maoued was also investigated for leading an antisemitic chant at a July 2017 rally where children uttered words such as "Israel and Hitler are the same."
In a statement issued Thursday afternoon, Khalid wrote:
"Antisemitism has no place in Canadian society. It is against what I stand for, and is against the work I have done as an MP to promote diversity and inclusion. Following correspondence between B'nai Brith Canada and my office with regards to a barbecue volunteer appreciation certificate given last week, I have looked into the matter extensively.
"I was not aware of some of Amin El-Maoued's past views – and only he can speak to them – but we all must stand against antisemitism and discrimination in all its forms. As a representative of the government especially I must condemn them, and rescind the volunteer certificate given to Amin El-Maoued.
"As a proud Canadian and the MP for a diverse and multicultural riding like Mississauga-Erin Mills I am proud of our dynamic Jewish community and everything they bring to our riding.
"I will have more thorough due diligence in the future in the allocation of these certificates and I apologize for this mistake."
Michael Mostyn, Chief Executive Officer of B'nai Brith Canada, felt the revocation and apology from Khalid are important, but also expressed reservations about elected officials lauding community members who attempt to divide society.
"While it is very disappointing that MP Khalid didn't appreciate the negative impact her close association with El-Maoued would have on Canadians," Mostyn said, "it is welcome that she has accepted the consequences of her actions within less than 24 hours of the publication of our petition and has now condemned El-Maoued for his antisemitsm."
"We are satisfied with what we must consider a victory for human rights in Canada and only hope we do not see a recurrence of this kind of behaviour from MP Khalid or any other representative of the government. Canadians must never stand by idly while our political leaders support those who engage in racist, divisive actions."