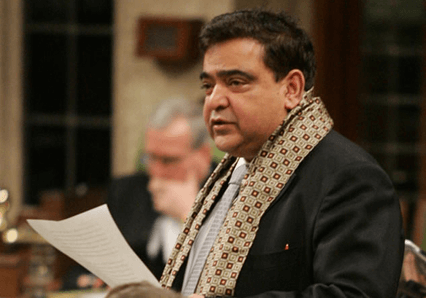 By B'nai Brith Staff
A Member of Parliament is calling for Canada to acknowledge its harsh treatment of Jewish refugees.
In a press release circulating this week, there are quotes from an address given by MP Deepak Obhrai to the Canadian Humanitarian Coalition at a World Refugee Day fundraising event on Parliament Hill on June 7, 2016.
"An apology by the Government of Canada to the survivors, relatives, and to the Jewish community would serve as an acknowledgment of Canada's harsh treatment of these refugees," Obhrai said. "It would enable us to reflect on, and learn from this past injustice and strengthen our resolve to be an inclusive nation that protects refugees fleeing persecution."
Obhrai cited a recent apology given in the House of Commons by the Government of Canada for its decision in 1914 to turn away the steamship Komagata Maru carrying 376  migrants who were seeking refuge in Canada.
Rona Ambrose, Interim Leader of the Official Opposition, said: "It is for that refusal that the Canadian government, and all of us here, stand today to recognize the terrible events that occurred when Canada failed to accept those seeking shelter in a new home.
"We must not forget another terrible incident, in 1939, when Canada refused to accept 907 Jewish refugees on board the German trans-Atlantic liner St. Louis who sought safe haven in Canada. As a result, the ship was forced to return to Europe, where 254 of its passengers later died in Nazi concentration camps."