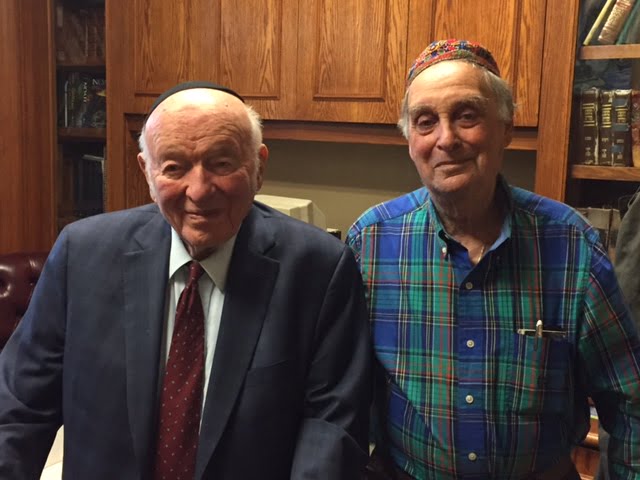 Jan. 2, 2019
QUEBEC CONFIDENTIAL | By Mike Cohen
MONTREAL – One of Canada's legendary religious leaders passed away last week.
Rabbi Wilfred Shuchat served as spiritual leader of Congregation Shaar Hashomayim in the tony Montreal suburb of Westmount from 1946 to 1993, and as rabbi emeritus all the way until his passing on Dec. 27, 2018.
He was 98.
Born in Montreal on June 6, 1920, Rabbi Shuchat studied psychology at McGill University before attending the Jewish Theological Seminary in New York. He would serve as a rabbi in Buffalo for two years before accepting a position at Shaar Hashomayim as an assistant to Rabbi Herman Abramowitz. When Rabbi Abramowitz passed away six months later due to an illness, Rabbi Shuchat was chosen as his successor.
As head of Shaar Hashomayim, Rabbi Shuchat created 15 study groups, some of which are still around today, built up the junior congregation for youth, and established the Montreal Board of Jewish Ministers to foster dialogue between Orthodox, Conservative and Reform rabbis.
Known for his exceptional talents as an orator and spiritual guide, he also offered counselling, established a charity for the needy, and often visited patients in hospital. The rabbi always had an ear for anyone.
Even following his retirement, and after both his sight and mobility deteriorated, he was still the first person to arrive at the synagogue for morning and evening services. "In his last few days his biggest concern was missing shul," one of his grandsons said at the funeral service held at the Shaar.
As the eulogies properly noted, nothing was more important to Rabbi Shuchat than the synagogue and his family. "He treated people with respect and saw everyone as God's children created in the Divine image. Rabbi Shuchat was clear of mind until his final days," his obituary read.
After his retirement, he wrote five books: The Gate of Heaven, The Story of Congregation Shaar Hashomayim, and four books on the rabbinic interpretations in Midrash Rabbah.
From Jerusalem, Rabbi Allan Nadler, who was Rabbi Shuchat's assistant and associate for many years, lamented his mentor's passing. "His departure from our world marks the end of an era in the history of Montreal and Canadian Jewry," he said. "Among the hundreds of memories that flooded my heart upon hearing of his petirah (passing)… was how, upon return from his frequent visits to Medinat Yisrael (the State of Israel), no matter what the hour, from midnight to 5 a.m., he would never miss the morning minyan and his daily glass of tomato juice… Jetlag, schmetlag. This was just one of so many examples of his remarkable love and commitment to the Shaar, and his devotion to its traditions and members. I had never seen anyone quite like it among my rabbinical colleagues those 36 years ago. He was truly a Lion of the Rabbinate and an exemplar worthy of emulation not only in Montreal and Canada but throughout the world."
Rabbi Nadler noted how Rabbi Shuchat's devotion to the Shaar hardly ended with his retirement. "Quite the contrary!" he said. "Regardless of the fierceness of the climate, the growing disabilities as he so gracefully aged, his loss of vision, the difficulty walking, he spent the almost four decades since his retirement arriving first to the minyanim, walking to shul even on the most bitterly cold Shabbat, and never, ever complaining. Such was his personal elegance… It was a great privilege to have had the joy of davening with him for much of past year since my retirement and return to Montreal, and to the Shaar Hashomayim, where his legacy will live on. That said, even into his 99th year he arrived in shul well before I did."
Daniel Gaisin, now a resident of Hamilton, Ont., recalled how his first involvement with Rabbi Shuchat was in the spring of 1949. "He was still single and prepping me for my Bar Mitzvah," he said. "His patience and empathy towards me carried on even when I was away in Israel, and especially in greasing the wheels for my move to Toronto in 1962. He meant so much to me that my fiancée and I went to the Shaar for my special pre-marital aliyah. He was a mensch and his impact on the Shaar Hashomayim family as well as the greater Westmount community is something to be emulated."
My last interview with Rabbi Shuchat was in 2012, after his wife Miriam had just passed away. Macular degeneration had robbed him of the ability to see, yet he looked for no sympathy. "My father is the epitome of optimism," his son Raphael told me at the time. "He is legally blind, has difficulty hearing, cannot walk without a walker and has other age-related issues, but he is always moving forward. He sees human responsibility as standing at the root of all things."
Rabbi Adam Scheier, the senior rabbi at the Shaar, said it best at Rabbi Shuchat's funeral: "It would  take hours to speak of the ways he established the values of this community. He was that rock of stability. Prayer was his lifeline."
Mike Cohen is B'nai Brith Canada's Quebec news bureau chief, a veteran writer and municipal politician. He can be reached at [email protected]. Follow him on Twitter at @mikecohencsl.