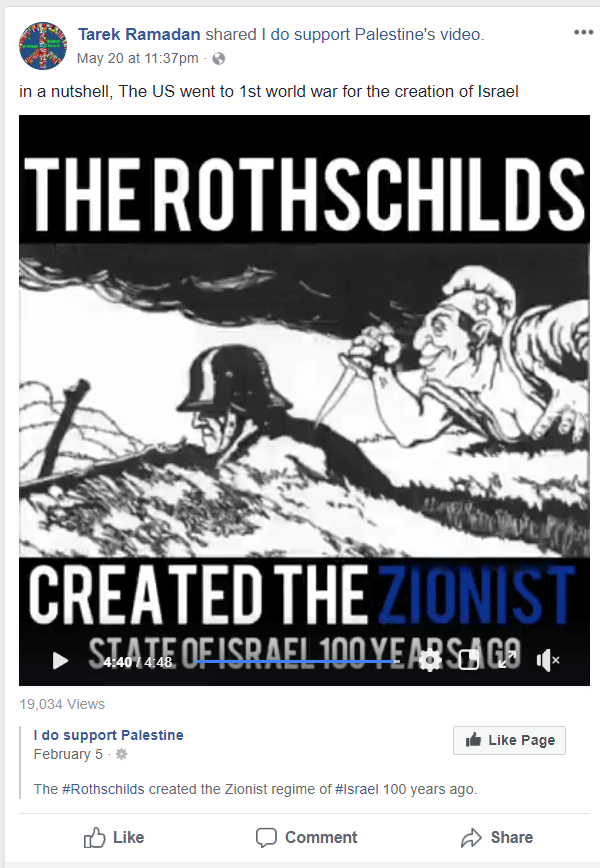 May 22, 2018
By Aidan Fishman
Director of the League for Human Rights
B'nai Brith Canada
VANCOUVER – A firebrand Vancouver imam recently lauded by B.C. Premier John Horgan has doubled down on his antisemitic and homophobic rhetoric just days after the Premier's Office refused to withdraw its letter of recognition.
On Sunday, Tarek Ramadan of the Kingsway Mosque publicly posted a video on Facebook which accuses the Jewish Rothschild family of controlling the world's banks and media, while justifying the Holocaust on the basis that "the Jews sold Germany down the river." Claims of Jewish control over the media and banks are classic antisemitic conspiracy theories.
Another post by Ramadan, made on Friday, describes Israeli soldiers as "fags," a homophobic slur.
On April 20, Horgan lauded Ramadan's "work as a community activist" and extended his "best wishes for [his] continued success," despite previous antisemitic comments by Ramadan, which were exposed by B'nai Brith. Ramadan understood the Premier's plaudits as a vindication of his harsh rhetoric, stating that "[G-d] is exalted, and He harnesses His servants as He wishes to defend me and bear witness for me."
"Premier Horgan's refusal to disown this man's antisemitic and homophobic rhetoric is incomprehensible," said Michael Mostyn, Chief Executive Officer of B'nai Brith Canada. "We expect the Premier to admit his error and show some leadership.
"Tarek Ramadan is not working 'to ensure our province is a place of acceptance and vibrancy,' as the Premier claims. In fact, he is doing exactly the opposite, abusing his position of leadership to fan the flames of hatred and division in society."
Rather than rescinding its praise of Ramadan, the Premier's Office has blamed "previous governments" for sending similar certificates to him, and said it was "reviewing the process by which certificates are administered."
To demand that Premier Horgan rescind his letter of recognition for those who engage in antisemitism and homophobia, contact him at [email protected] and copy [email protected].