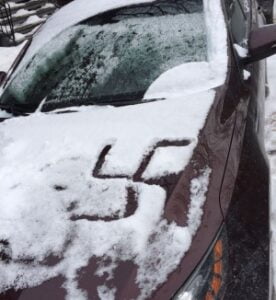 By Marty York
Chief Media Officer
B'nai Brith Canada
The ugly reality of antisemitism in Canada was evident in the suburbs of two major Canadian cities in recent days, B'nai Brith has learned.
In the Winnipeg neighbourhood of St. Vital, a former Cabinet Minister in the Legislative Assembly of Manitoba became appalled and infuriated when she was walking her dog and noticed a large swastika drawn into the snow, alongside the words, "F–k Jews."
"I was extremely upset – extremely upset – when I saw the swastika and those words in the freshly fallen snow," Chris Melnick, the former MLA in Manitoba, told B'nai Brith. "It was highly offensive to me. I don't want anything like that in my neighbourhood. So I just got rid of it with my boots."
Melnick, who is not Jewish but has worked closely with the Jewish community, did not have her cell phone with her at the time and was unable to take photos of the swastika and slur. She also did not wish to call the police as she has experienced similar incidents in the past and said they did not respond.
"I wasn't interested in 'no response' again," she said. "That's why I called B'nai Brith. I called you folks because I knew you would respond in some way."
READ: A Swastika in the Snow: What You Get for Defending the Jewish Community 
Meanwhile, in Outremont (a Montreal borough with a large Hasidic population), swastikas were scrawled into the snow on the windshields of at least four cars. A police report has been filed. A group of young residents did what they could do to fight the hate by wiping away the swastikas and drawing hearts onto the windshields in their place.
"It was heartwarming to see members of the community organize to draw hearts on the snow-covered cars," said Harvey Levine, Quebec Regional Director of B'nai Brith Canada. "It was a wonderful gesture of solidarity against this type of antisemitism."
Amanda Hohmann, National Director of B'nai Brith's League for Human Rights, was frustrated to learn about the incidents.
"Too often, we get calls about incidents such as these," she said. "As much as I hate to say this, antisemitism has become commonplace in Canada. There's been significant underreporting of antisemitism in the past several years, but that's changing now because discussion of racism against minorities has been trending in recent months.
"As B'nai Brith's statistics show, it's not new. Antisemitism has always been in Canada, and has been on a steady increase for a decade."
B'nai Brith will divulge details regarding the number of antisemitic incidents in Canada during the year 2016 in its annual Audit of Antisemitic Incidents, which will be published this spring.
To report an antisemitic or racist incident, please visit bnaibrith.ca/report.