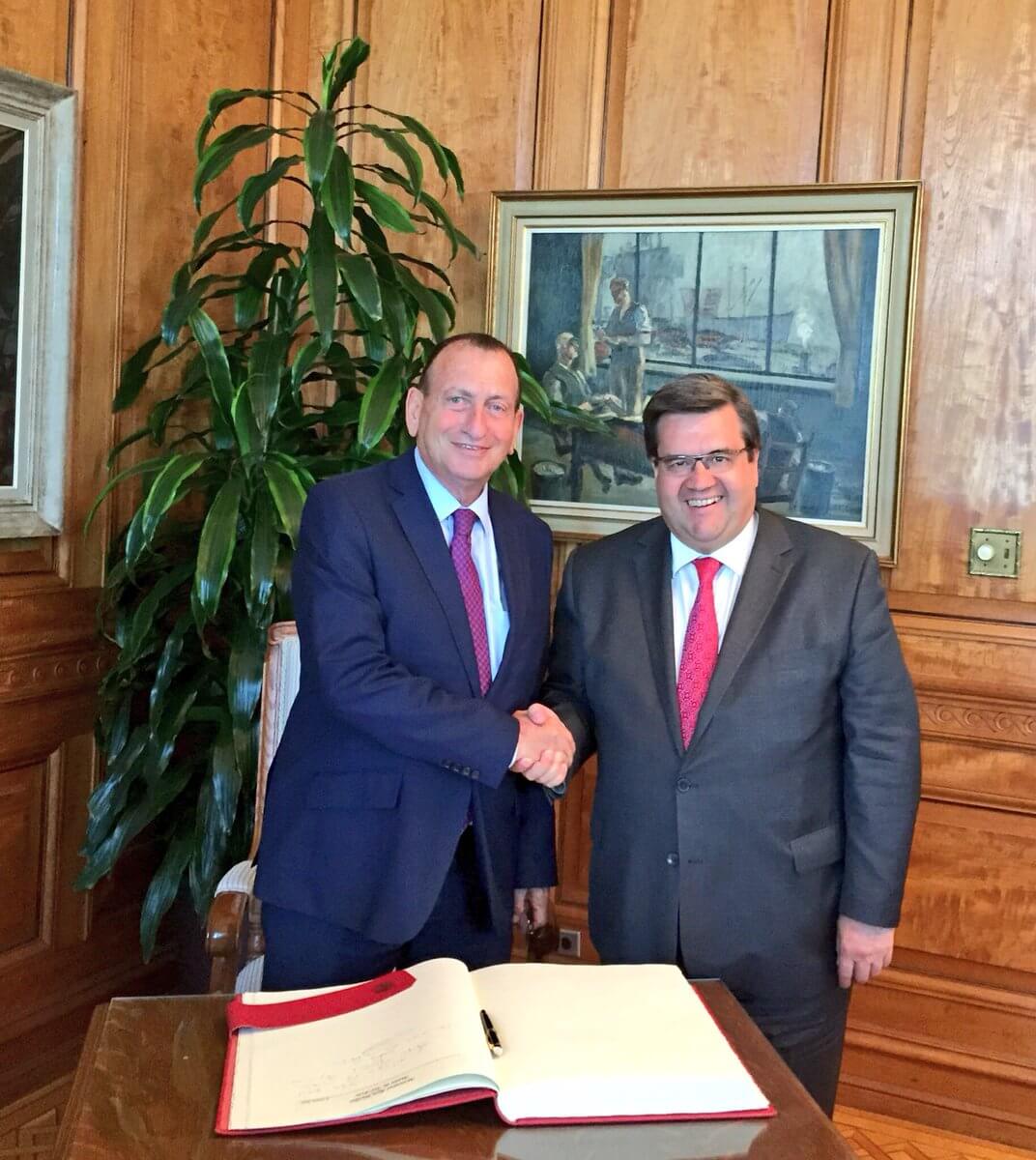 By Tevy Pilc
Staff Writer/Researcher
B'nai Brith Canada
The mayors of Canada's largest metropolises are heading to the Holy Land.
In an announcement made at Montreal city hall this week, Montreal Mayor Denis Coderre said he will lead an economic mission to Israel in the fall. He will be joined by Toronto Mayor John Tory.
The mayor made the announcement standing beside Tel Aviv Mayor Ron Huldai, who was in town to speak at the Jewish National Fund of Montreal's Negev Gala.
#Montreal Mayor @DenisCoderre welcomes @MayorOfTelAviv ; announces Nov. Israel & West Bank trade mission @JohnTory pic.twitter.com/LbSt2Lvcvl

— Howard Liebman (@HowardLiebman) June 20, 2016
(Tweet courtesy of Howard Liebman, Special Advisor to the Mayor of Montreal)
The November 12-18 trip is being organized alongside the Board of Trade of Metropolitan of Montreal. Tel Aviv, Jerusalem, Haifa and Be'er Sheva are already on the itinerary with more trip details yet to be released.
Both mayors expressed shared goals of creating business opportunities, particularly in information technology and digital arts.
Representatives of Mayor Huldai who attended the announcement said Coderre is highly impressed in what a place like Tel Aviv and Israel has to offer for growth.
Meggie Navon, Vice President for the North American Committee for the Tel Aviv-Yaffo Foundation, which is the international fundraising arm of Tel Aviv-Yafo, told B'nai Brith Canada: "Both mayors share the same values. It really seemed Mayor Coderre wants to create the same type of environment in Montreal that has made Tel Aviv and Israel so successful."
"Tel Aviv has so many amazing initiatives, especially in education and technology," added Orpaz Gibson, Operations Manager for The Canadian Committee for the Tel Aviv-Yafo Foundation and the Mayor's Canadian representative for the foundation. "The Mayor is excited to work with and deepen relationships with his Canadian counterparts. He's always looking for partners for growth and success. We're thrilled about the positive possibilities on the mission."
The Israel mission expanded to include Toronto participation following the signing of an agreement between the two mayors in April. They agreed to "co-operation and partnership" in matters of shared interest, including joint overseas economic missions to promote investment in their own cities.
Tevy Pilc can be emailed at: [email protected]