abc News
Nov 12, 2023
https://abcnews.go.com/International/montreal-jewish-school-targeted-shooting-2nd-time-week/story?id=104832890https://torontosun.com/news/local-news/warmington-canada-is-starting-to-look-like-1930s-germany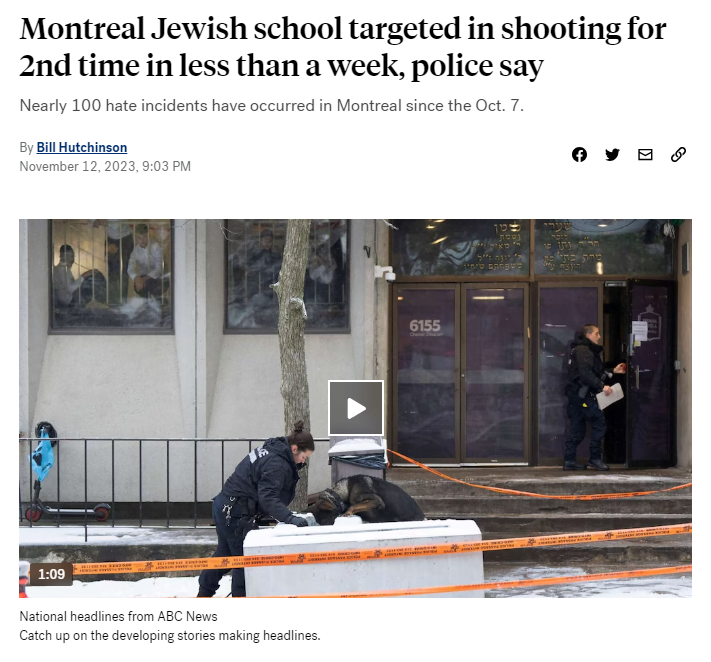 A Jewish school in Montreal was shot at Sunday, the second time in under a week the school has been targeted with gunfire, according to police.
The facade of the school in Montreal's Côte-des-Neiges neighborhood sustained damage but was empty at the time of Sunday's shooting, and no one was injured, Caroline Chevrefils, a spokesperson for the Montreal Police Department, told ABC News.
The shooting occurred about 5 a.m. local time Sunday, and police received multiple 911 calls of gunfire in the area, Chevrefils said, noting a witness told police they saw a car speeding from the scene after the gunfire.
Police did not release the name of the school, but Chevrefils confirmed to ABC News that it is the same Jewish school that was shot at on Thursday.
CTV News in Canada identified the school as the Jewish School Yeshiva Gedola.
"I am horrified to learn of another incident of gunshots fired at the same Jewish school in Montreal early this morning. Thank goodness no one was harmed, but this threatening antisemitic violence cannot go on," Karina Gould, a member of Canada's Parliament, said in a statement on social media.
Chevrefils said the school shooting is being investigated as a hate incident and that investigators are asking the public to come forward with any security video that captured the shooting.
A second Jewish school in Montreal was also damaged by gunfire on Thursday morning, Chevrefils said. No arrests were made.
Chevrefils said the number of hate crimes and hate incidents in Montreal has skyrocketed since Oct. 7, the day Hamas terrorists launched an unprecedented surprise attack on Israel and infiltrated the country by air, sea and land, killing more than 1,200 Israeli civilians and soldiers and taking more than 200 people hostage.
Since the Hamas invasion of Israel, more than 11,000 people have been killed in Gaza in retaliatory strikes from Israel.
Chevrefils said that since Oct. 7, Montreal police have investigated 98 hate incidents, including 73 targeting Jewish people and institutions and 25 targeting the Arab-Muslim community.
"This is absolutely mind-boggling," Michael Mostyn, chief executive officer of Jewish advocacy group B'nai Brith Canada, said in a statement responding to Sunday's shooting. "How in the world can this be going on in a civilized country? We certainly hope Montreal police can get to the bottom of this and keep the Jewish community safe."
Montreal Mayor Valerie Plante also condemned the shooting at a news conference Sunday, saying, "The Jewish community in Montreal is currently under attack."
"It's a big issue, it's a big problem," Plante said. "We can have opinions that differ. But there is no reason — there is no reason that justifies shooting at an elementary school, at our communities. An antisemitic act like this has no place in Montreal."