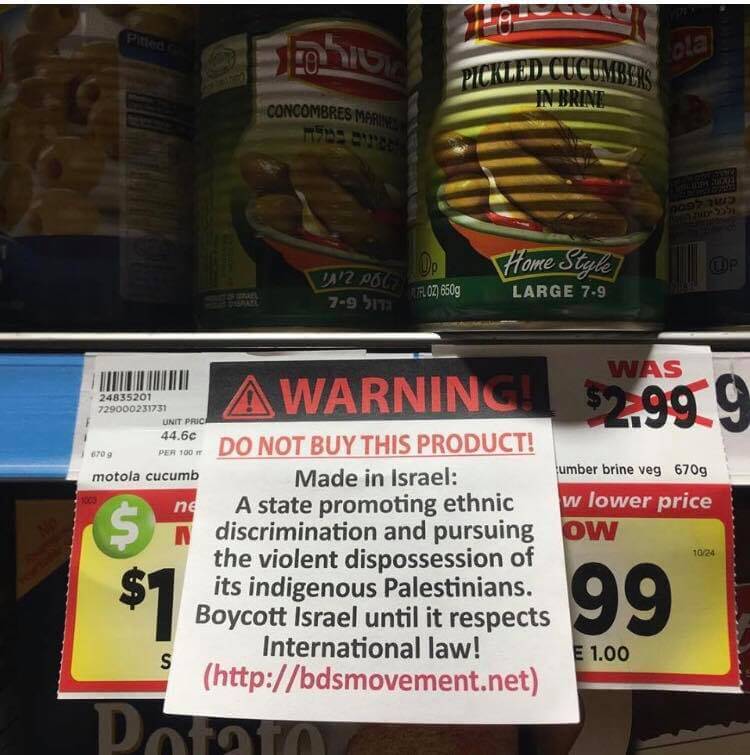 Oct. 11, 2018
By Daniel Koren
Manager, Media Relations & Communications
B'nai Brith Canada
TORONTO – Metro Ontario Inc., the corporation that oversees the chain of Metro grocery stores across the province, is decrying the anti-Israel, pro-BDS (boycott, divestment and sanctions) stickers that were recently discovered at two of its Toronto locations.
"This signage was put up by a group unaffiliated with Metro and without our permission," a customer care advisor with the company said. "It does not reflect our opinions and we are working to remove any signage. If you do see any of these stickers or signs, please advise the store manager so we can take action as quickly as possible."
Last week, photos of the stickers, which were illegally placed near food items made in Israel, emerged on social media.
The stickers read, "Warning! Do not buy this product! Made in Israel: a state promoting ethnic discrimination and pursuing the violent dispossession of its indigenous Palestinians. Boycott Israel until it respects international law!"
On Thursday, Michael Mostyn, Chief Executive Officer of B'nai Brith Canada, condemned the perpetrator(s) of the crime.
"Not only did they deface private property, they are promoting information that is egregiously false on many, many levels. First, genetic, archaeological and historical evidence indisputably confirm that Jews are indigenous to the Land of Israel. Second, the State of Israel is not 'pursuing the violent dispossession' of Palestinians.
"On the contrary, it is Palestinian leaders who continue to promote violence, destruction and an end to the Jewish state rather than working towards a just and peaceful end to the conflict."
Mostyn also thanked Metro for taking a stand against antisemitism and intolerance.
On Tuesday, York Centre MPP Roman Baber shared a letter he sent to Metro denouncing the stickers. "My office has zero tolerance for the BDS movement," he wrote. "Metro… advised that it does not tolerate hate and loves its clientele. They believe it was an act of a coward. The entire corporate ladder is engaged."