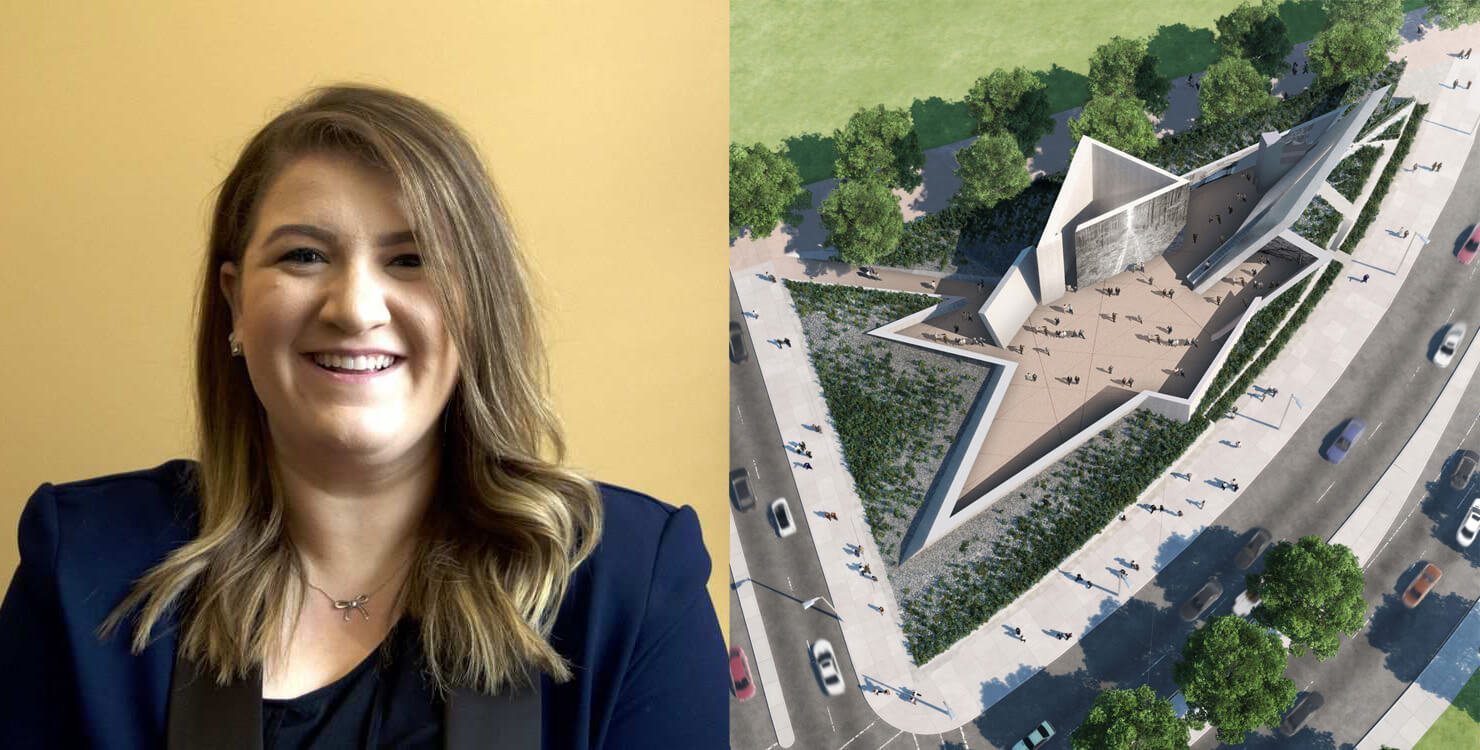 Sept. 27, 2017
By Tevy Pilc
Staff Writer/Researcher
B'nai Brith Canada
TORONTO – I first met Laura Grosman at B'nai Brith Canada national headquarters in Toronto.
We were both B'nai Brith student interns in the summer of 2009. I was working for the Jewish Tribune while Laura worked as a communications associate.
We got along very well, often having lunch and car-pooling on the way home. And even though I didn't see her much during the day, there was no denying her tremendous passion and work ethic for the sake of advancing and strengthening the global Jewish community.
"B'nai Brith was one of the first introductions I had into the professional Jewish world," Grosman said. "I had interned somewhere before but it was at B'nai Brith where I really felt like I made it to the professional Jewish world."
While she kept busy with her summer job at B'nai Brith and as a student at the University of Ottawa, little did I know that Grosman was simultaneously working on something massive. Not just an assignment or project – but something that would change the course of Canadian history in terms of Holocaust education and commemoration.
That piece of history will come to fruition today with the opening of the National Holocaust Monument in Ottawa.
Grosman first came up with the idea as an 18-year-old public administration student, when she learned that Canada was the only Allied country to not have a Holocaust memorial located in its capital. The news didn't sit well with her and thus began her decade-long campaign to make this monument a reality.
The National Holocaust Monument is located at Booth & Wellington across from the @CanWarMuseum in Ottawa. It opens to the public tomorrow pic.twitter.com/vpn0sSbFYo

— Canada's History (@CanadasHistory) September 27, 2017
She soon got in touch with then local MP Susan Kadis, who agreed to help draft a private members' bill. Although she felt this was her best option, Grosman acknowledged it would be an uphill battle, and told me that "typically about 600 private members' bills are introduced in a session with about 30 passing to law."
Making matters worse was the 2008 federal election, which killed the Kadis bill – effectively meaning that Grosman would have to start from close to scratch. Also gone was Kadis, who lost her seat to the Conservative Peter Kent.
Grosman was undeterred.
"When we came closer to knowing there was going to be an election, I was introduced to Peter by my mentor (CEO of Weston Forest and Grosman's current boss) Rick Eckstein," she said. "I asked Peter if elected, if he would take on the project, and he said yes."
However, Kent was catapulted straight into cabinet, which prevented him from sponsoring the bill. Grosman soon got in touch with Conservative MP Tim Uppal to sponsor the bill. Uppal had a "strong Holocaust connection," Grosman said, as his wife had taken part in a March of the Living trip.
After a relentless onslaught of lobbying and relationship-building with MPs and political influencers across the spectrum, Grosman eventually landed a parliamentary assistant job, which provided her with even more opportunities to network. She would spend the next eight years working in various positions throughout Parliament.
"We had the Conservatives' support, but it was my decision that I didn't want the bill to go through without the full support of all four major parties in the House," she said. "So I spent a lot of time talking to MPs, pitching them the idea, meeting with all the Jewish organizations."
It wasn't all friendly, though. Many people she spoke to reacted very negatively to the idea.
"I had a shocking amount of people from both the community and Parliament who said no," Grosman said. "I felt like I was on my own. Nobody thought I could make this happen and therefore I didn't merit any manpower from anyone to support me.
"There had been many attempts to create a national Holocaust memorial before me – from both the organized community and average citizens. And multiple times it failed. But I wouldn't take no for an answer."
On Sept. 18, 2009, Bill C-442, an Act to Establish a National Holocaust Memorial, made its first appearance (and reading) in the House. A second reading came shortly after.
The roadblocks, however, remained prevalent.
Some MPs "didn't believe this was good for the Jewish community so they were going to hold this up in committee for weeks. It should've taken one week. So much politics were being played. At the end of the day, it's a Holocaust monument, you shouldn't have to do that," she said.
By June 2010, Bill C-442 passed the committee and by January 2011 was on its way to the Senate. Grosman enlisted the help of Sen. Yonah Martin who, along with the Prime Ministers' Office, helped pushed the bill through the Senate at lightning speed.
"We went to the Senate in March, and you know how slow these things can be – it can sometime take years – and we also knew the government was going to fall and that meant everything would be dead and we'd have to start all over again," Grosman said. "But with the combined help of the PMO, the Senate and the opposition's office, we were able to get the bill through the Senate in a week."
Moreover, when the bill finally got Royal Assent and was signed into law by the Governor General, just hours later the government fell on March 25, 2011 and an election was called.
Following years of planning, Grosman was officially recognized in person by Prime Minister Trudeau at a groundbreaking ceremony for the monument at the corner of Wellington and Booth streets in Ottawa on Sept. 21, 2016. The official inauguration will take place today, Sept. 27, 2017.
"I was a kid and I had an idea," Grosman said. "And this is Canada, I can make a difference and I can do this. This is a country that fosters an attitude of youth empowerment and involvement. At no point did I think it was unrealistic.
"If you have an idea, see it through. Embrace your tenacity and ambition and if one person says no, find someone else who will say yes. I had many people say no to me and I wouldn't accept that."
While the amount of people and organizations that influenced Laura are innumerable, she has a special place for B'nai Brith.
"I was certainly able to take that knowledge and experience I gained at B'nai Brith to give me a step up on others on how things worked in the Jewish community and the great things the organization does," Grosman said. "I'm grateful for all that I learned and the relationships I developed while spending my time at B'nai Brith."
B'nai Brith Canada will be attending the ceremony in Ottawa and is proud to stand with Grosman, a former intern turned activist, to witness this great moment in Canadian history.
Tevy Pilc is a writer/researcher with B'nai Brith Canada. He can be reached at [email protected]