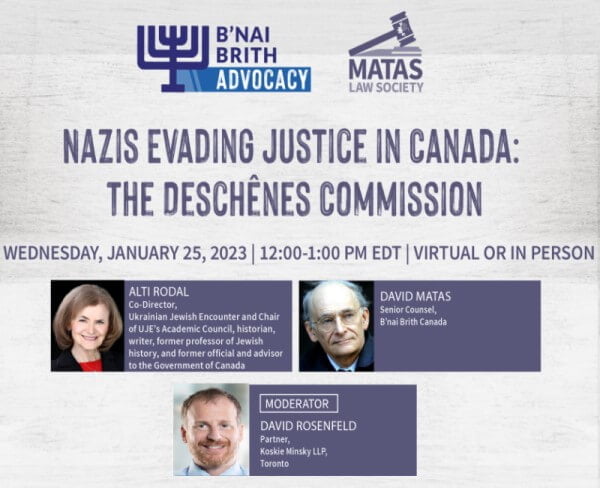 Jan. 17, 2023
B'nai Brith Canada's Matas Law Society (MLS) is pleased to invite its members to join its upcoming event, Nazis Evading Justice in Canada: The Deschênes Commission.
The virtual and in-person event, scheduled for Jan. 25, 2023, will explore the topic of Nazi war criminals finding refuge in Canada. Key speakers include David Matas, a Canadian legal giant, human-rights lawyer and namesake of MLS, and Alti Rodal, Chair of Ukrainian Jewish Encounter's Academic Council and the principal researcher for the Deschenes Commission report on Nazi war criminals in Canada.
This event is accessible exclusively to MLS members. Membership is open to Jewish legal professionals and students across Canada.
MLS frequently hosts events and convenes engaging panel discussions for those in the legal field. Members can watch past events online and access valuable legal information. Swapping important and innovative ideas is commonplace at MLS forums.
Through MLS, members can connect and grow in their professional and personal capacities. MLS provides members with broad opportunities ranging from Continuing Legal Education (CLE) programming to networking opportunities.
"B'nai Brith is proud to connect preeminent legal minds in Canada through our Matas Law Society with fascinating and enlightening programming, including our upcoming discussion on Nazi war criminals finding safe haven in Canada," said Michael Mostyn, Chief Executive Officer of B'nai Brith Canada. "We continue to welcome Jewish legal professionals and students. There is no reason to hesitate, membership provides those in Canada's legal community an unparalleled opportunity to grow, connect and advocate for their communities.
"No matter where one is in their legal career or studies, MLS membership is an exclusive invite to opportunities and connections with like-minded professionals."
To learn more about the Matas Law Society, please visit its website by clicking here