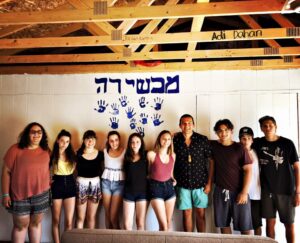 By Aidan Fishman
Campus Advocacy Coordinator
B'nai Brith Canada
Prominent Manitoba First Nations activist, former CBC radio host and newly-elected NDP MLA Wab Kinew visited Camp Massad recently to discuss human rights issues. Massad is a Jewish summer camp located just north of Winnipeg, and was founded in 1953 as a vehicle for reviving the Hebrew language.
After posting a photo of his visit to Facebook, Kinew encountered something he had not expected – fierce backlash. One commenter asked whether Kinew had mentioned "Palestinian human rights, language, culture, stolen land and executed children" to campers at Massad, while another lamented the "irony" of discussing human rights at a Jewish summer camp.
In response, members of Winnipeg's Jewish community defended Kinew's visit, with one commenting, "While there is room for constructive criticism of Israel, just as there is room for constructive criticism of Canada and any other nation on earth, there is no room for antisemitism like this in Winnipeg."
Reached by B'nai Brith Canada for comment, Kinew expressed his disappointment with the critics of his visit, and his solidarity with those who rebuked them. He also called his visit to Massad "an opportunity to engage with young people about indigenous issues" and stated that it was "inappropriate for people to stereotype and make assumptions based on the religion and culture of young people."