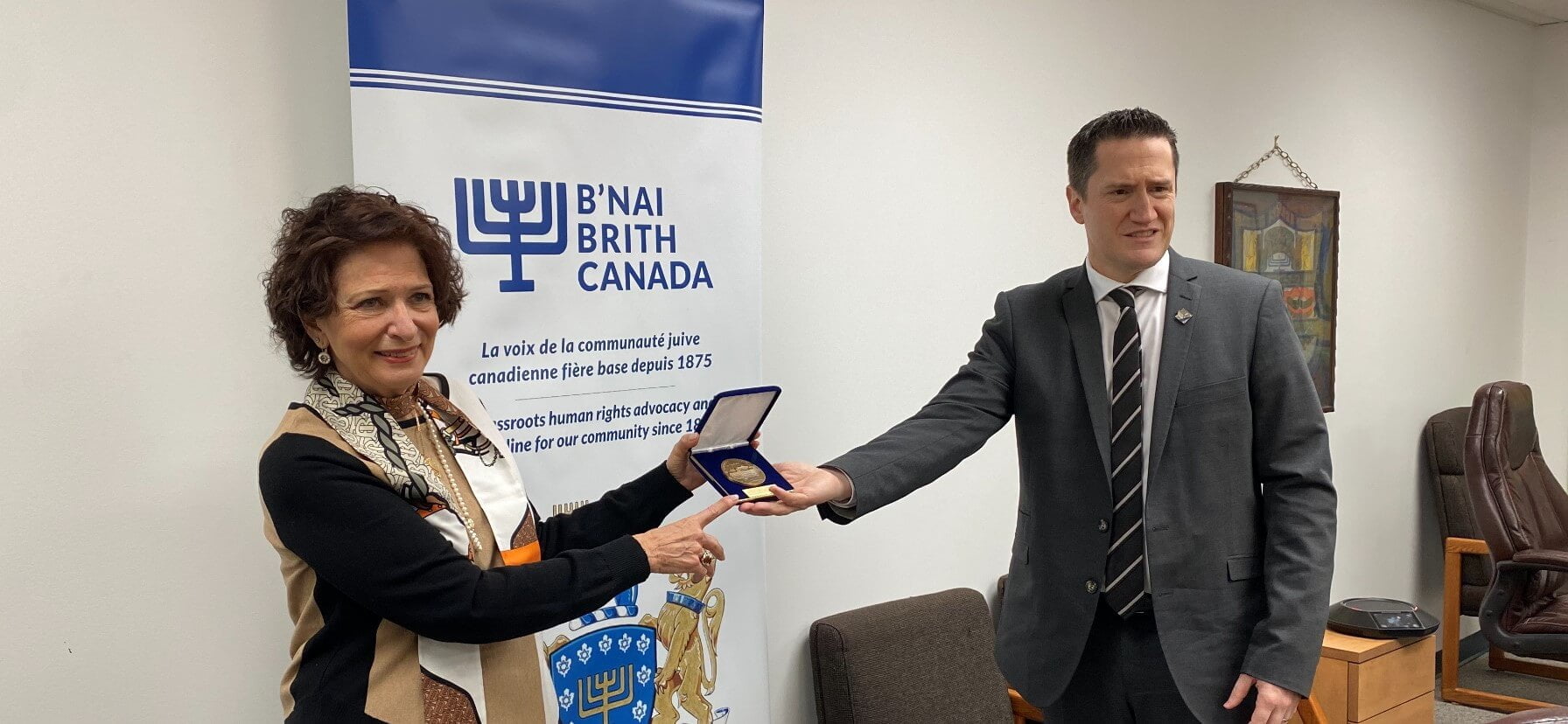 Cliquez ici pour la version française
Feb. 04, 2022
MONTREAL — B'nai Brith Canada is proud to announce that Harvey Levine, the late Regional Director for Quebec, received a posthumous award today from the National Assembly of Quebec.
Quebec Minister Benoit Charette visited B'nai Brith's Montreal office to present the Medal of the National Assembly, which was accepted on behalf of Harvey by his wife, Doreen Levine. Mr. Charette is the Minister responsible for fighting racism in Quebec. The Medal of the National Assembly is awarded to Quebecers for their achievements in the province.
Levine volunteered with B'nai Brith for decades before becoming Quebec Regional Director in 2013. He also received a Lifetime Achievement Award from the City of Cote Saint-Luc, Que. in recognition of his work supporting the Jewish community.
"The tremendous impact of Harvey's decades of work with B'nai Brith continues to inspire us today," said Michael Mostyn, Chief Executive Officer of B'nai Brith Canada. "This medal is so deserving and reflects Harvey's contributions to Quebec's society.
"Harvey dedicated his life to speaking out against antisemitism, hate, and bigotry. He was a mensch in the truest sense of the word. His dedication to the community won't be forgotten. We appreciate the National Assembly's recognition of Harvey's achievements."
Minister Charette said: "In awarding this medal from the National Assembly, we recognize the significant contribution of the late Mr. Harvey Levine in the fight against antisemitism. An admirable man and a committed citizen, he devoted part of his life to making Quebec a society free of hate. Always driven to be in action so that our society is never indifferent, the addition of his voice to this perpetual work will never be forgotten."
"Our family is honoured to accept this award on behalf of our beloved Harvey," Doreen Levine said. "He would be overwhelmed and honoured to receive this medal from the Naitonal Assembly. Serving the community was so meaningful to Harvey and it's heartwarming for my family and I to see his hard work and dedication acknowledged."