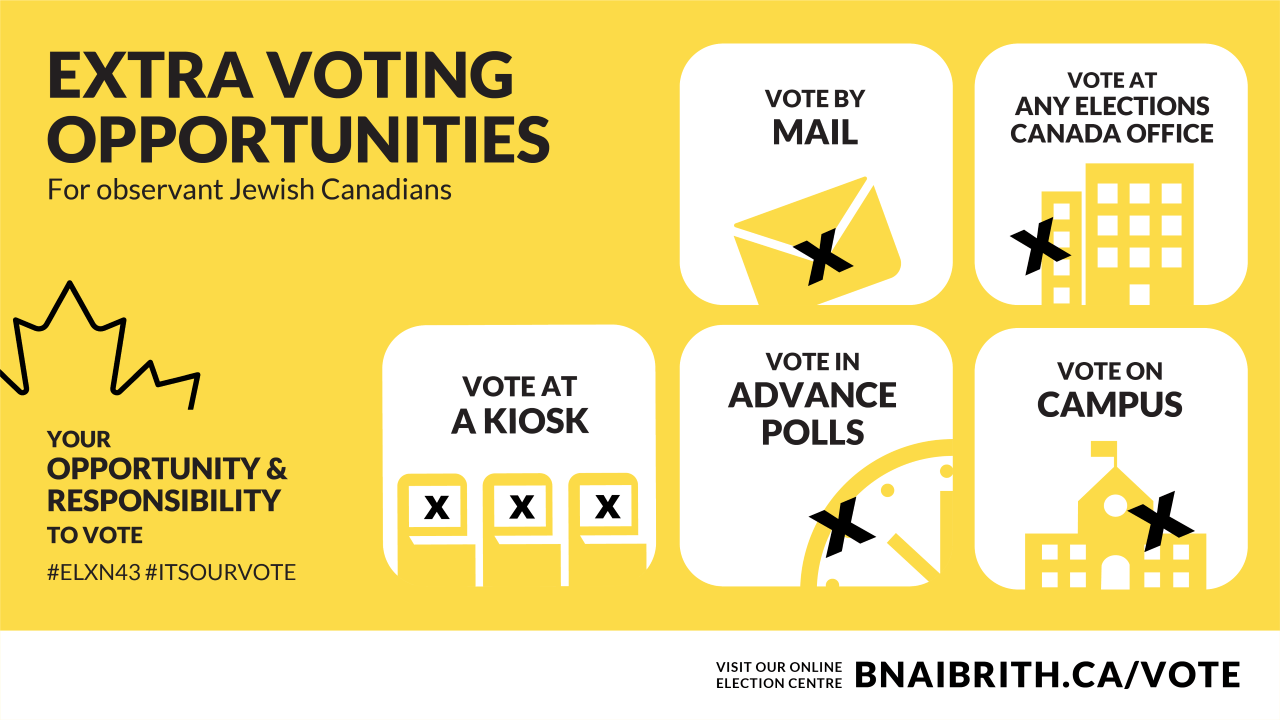 October 7, 2019
B'nai Brith Canada
OTTAWA – B'nai Brith Canada is encouraging Jewish Canadians to take advantage of the few remaining days available for them to vote in the federal election without holiday conflicts.
Below, please find a simple breakdown of all options – including new ones that have been added specifically for the next few days!
Please be advised these options are only available this week and there will be no further voting opportunities after that time for anyone wishing to observe the Jewish holidays.
To vote, you must present photo ID and proof of address.
Follow us on Facebook and Twitter for daily updates and helpful information.
1.  Vote at Elections Canada Offices, 500 offices across the country 
DATE: Starting NOW until Sunday, October 13, 6 p.m
HOURS: Offices are open seven days a week:
·        Monday to Friday: 9 a.m. — 9 p.m.
·        Saturday: 9 a.m. — 6 p.m.
·        Sunday: noon — 4 p.m
2.  Vote at Kiosks/Additional Service Points (ASPs) 
DATE: Starting NOW until Thursday, October 10, 8pm
HOURS: 10 a.m-8 p.m
3.  Vote on Campus
Anyone can vote at over 115 campuses across Canada
DATE: Starting NOW until Wednesday, October 9
4.  Voting on Advance Polling Days
DATE: Friday, October 11 and Sunday, October 13
HOURS: 9 a.m until sundown
LOCATION: Vote at your assigned polling station.
5.  Vote by Mail
This option is most appropriate for people abroad or outside their ridings.
DATE: Register before Sunday, October 13
HOURS: Before 6 p.m
To vote by mail, apply online (page doesn't exist) or at any Elections Canada office.
If you live abroad, you can also apply through any Canadian embassy, high commission or consulate.