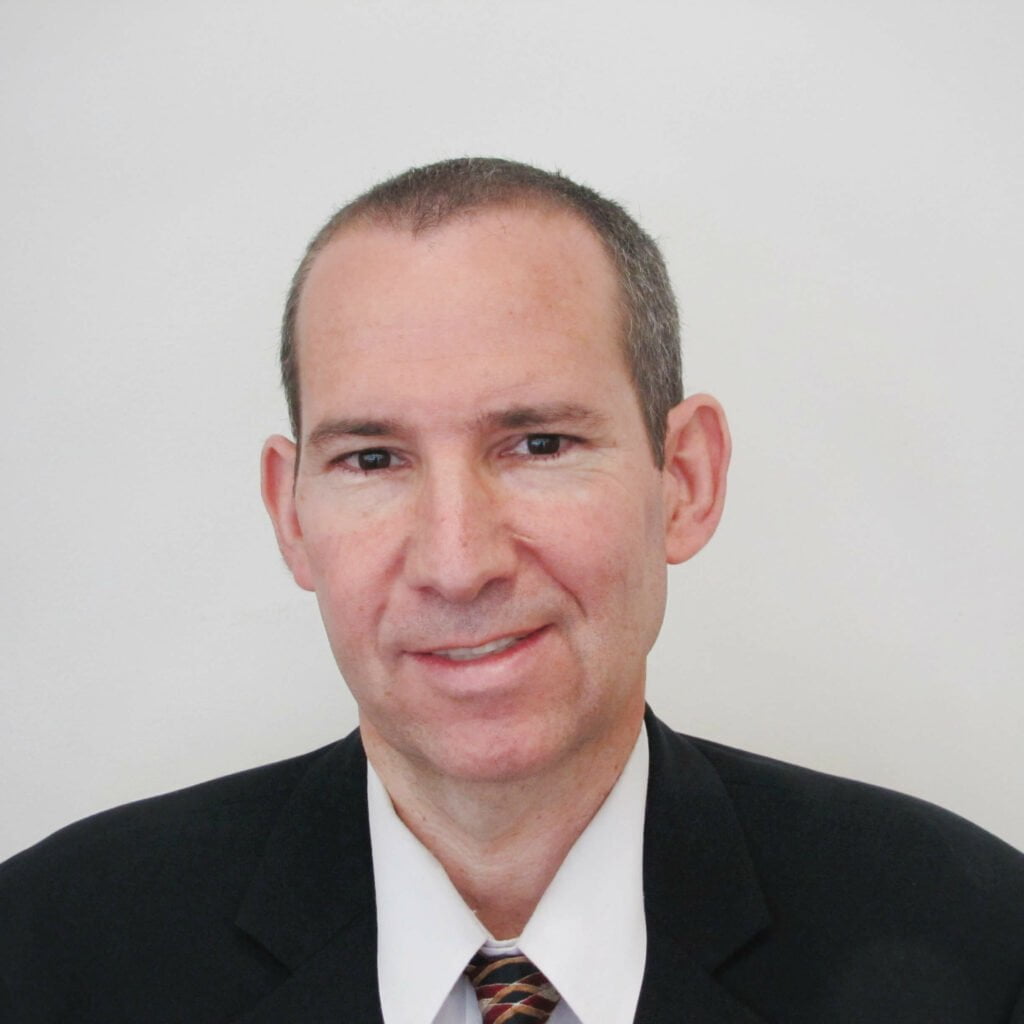 The opinions, facts and any media content presented do not necessarily reflect the position of B'nai Brith Canada.
Sept. 6, 2017
As a longtime B'nai Brith Canada board member in Quebec and a Lodge past president, Larry Rosenthal can always be counted on to step up to the plate for his community.
Last week, for the fourth successive year, Rosenthal gathered a who's who of the Jewish community for a ceremony at the military Field of Honour of the Baron de Hirsch Cemetery for a special Remembrance Day to recognize the sacrifices made by Jewish members of Canadian Armed Forces.
"Why do I organize this event?" Rosenthal asked me rhetorically.
"This ceremony is important because we must never forget the young men and women who left home at such a tender age to fight," he said. "They were so far from home and many died for their ideals to keep fascism from coming to our shores and to keep families safe. We are truly fortunate that the current generation of community leaders accepted the concept that I put forward to annually recognize the sacrifices made by the members of Canadian Jewish Armed Forces."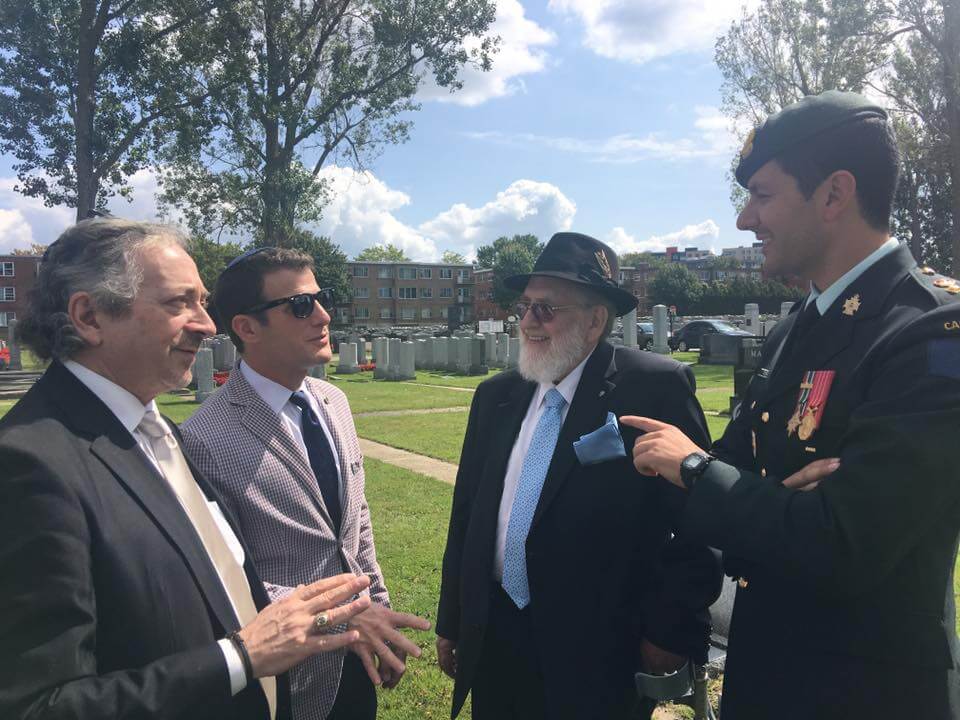 While Remembering is the proper thing to do, Rosenthal says that the concept encompasses the belief that we should be inspired by their devotion to duty and country to perform acts of kindness on their behalf to bring them kovod and nachas.
Just two years ago, Rosenthal played a key role in having a 70-year-old monument at the cemetery expanded from including the original 130 names of Canadian Jews known to have died during the two world wars and Korea to the present-day and more accurate number of 577.
B'nai Brith Canada Quebec leaders Harvey Levine, Ted Greenfield, Eric Bissell and Allen Adel were on hand for the ceremony as well as Mount Royal Liberal MP Anthony Housefather, Israel Consul General Ziv Nevo Kulman, Hampstead Mayor William Steinberg, Côte Saint-Luc Mayor Mitchell Brownstein, Councillor Allan J. Levine, political activist and Westmount mayoral candidate Beryl Wajsman, Rabbi Moshe New, Israeli Deputy Consul-General Rotem Segev, Montreeal City Councilor Lionel Perez,  Royal Canadian Navy veteran Harry Hurwitz (who served in the Battle of the North Atlantic and survived a Nazi POW camp) and Lt. Col. Alain Cohen of the Fusilliers de Montréal.
As part of #DayofAction joined @mbrownsteincsl @Bill_Steinberg @lionelperez & reps of @bnaibrithcanada @FederationCJA to honour our vets pic.twitter.com/gzq97c0Uxh

— Anthony Housefather (@AHousefather) August 27, 2017
A veteran of Afghanistan – having served in the Kandahar region – Col. Cohen had just returned from France where he participated in the Dieppe commemorations in the company of 100-year old Col. David Hart, a decorated veteran of Dieppe, who was fêted several months ago at the Royal Montréal Regiment.
For Rosenthal, this ceremony touched him personally as well, as it was an opportunity to remember his late older brother William Guy Rosenthal. He was a gunner in the Royal Canadian Artillery, killed in action in 1943 at the age of 21. "Visiting my late brother's grave site near mount Etna, Agira, Sicily in 197 was an emotional and traumatic experience for me," Rosenthal recalled.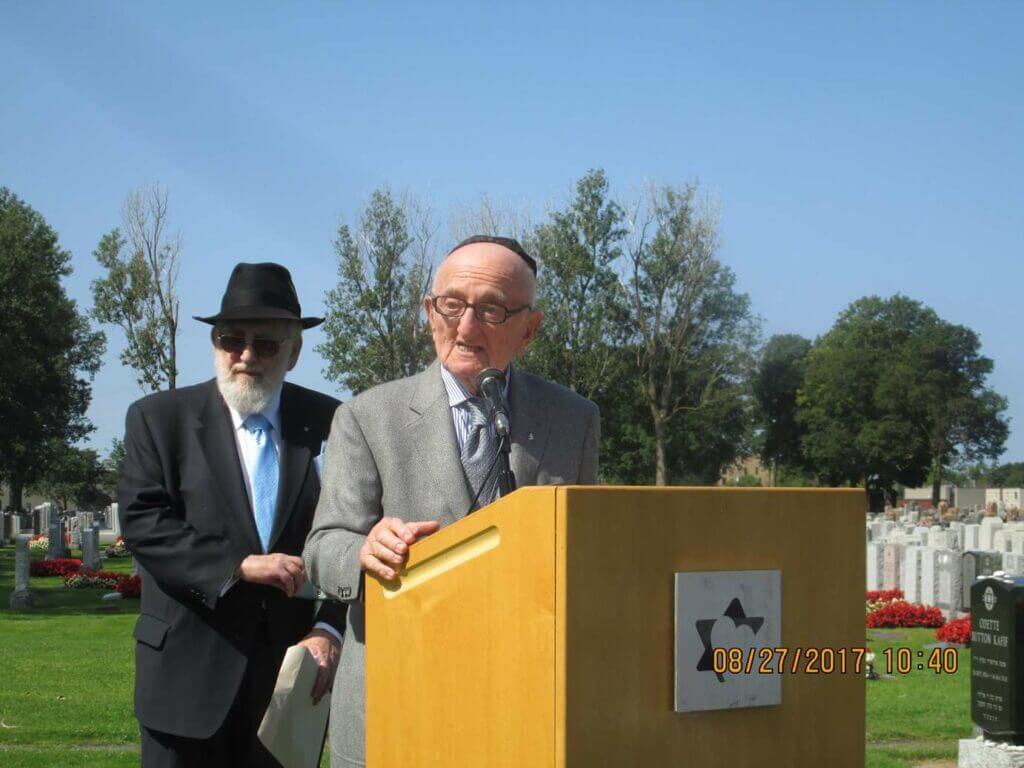 "In this year of special remembrances – the 100th of Vimy and the the 75th of Dieppe – Larry Rosenthal once again organized a moving and necessary commemoration this morning honouring those who gave the ultimate sacrifice as members of Canada's armed services," declared Beryl Wajsman. "All the speakers' words were moving, but particularly those of Lt. Col. Alain and Rabbi New blowing the Shofar – the eternal symbol of Jewish resolve – in memory of the fallen."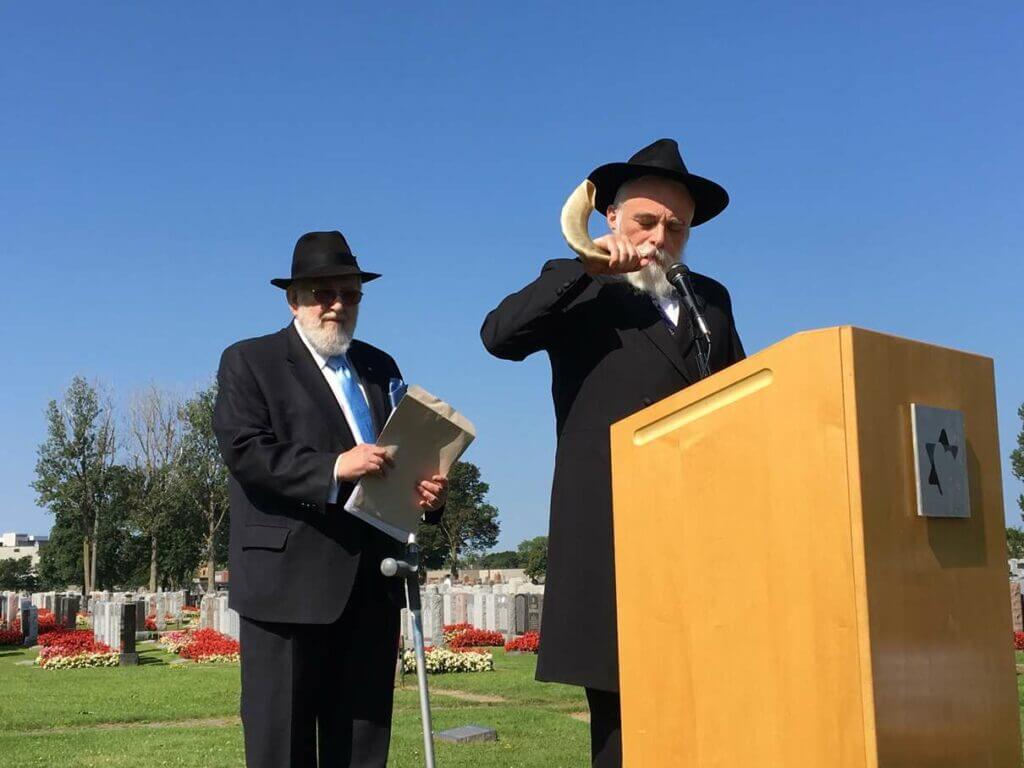 A big tip of the cat to Larry Rosenthal!
Mike Cohen  is B'nai Brith Canada's Quebec bureau chief. He can be reached at [email protected]. Follow him on Twitter @mikecohencsl.