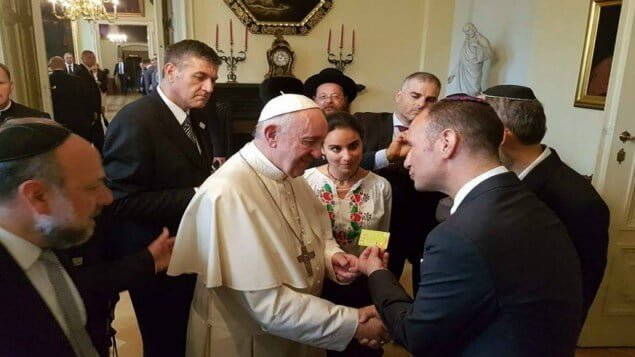 By Jordan Zaitchik
B'nai Brith Canada
Should he decide to use it, Pope Francis will surely have no problem getting a good gym locker as the newest member of Krakow's Jewish Community Center.
At the end of his four-day visit to Poland for the Roman Catholic Church's World Youth Day, the pontiff visited Archbishop Stanisław Dziwisz at his residence in Krakow, Poland. At the reception was Executive Director of Krakow's JCC Jonathan Ornstein, who presented Pope Francis with a JCC membership card and t-shirt.
Ornstein was honoured to meet Pope Francis, "I told him about the rebirth of Jewish life in Krakow and how close our relations are with the church. And I thanked him for giving voice to the oppressed."
The director of the Association of the Jewish Historical Institute of Poland, Piotr Wislicki and the presidents of several Polish Jewish communities also attended the event. Poland's chief rabbi, Michael Schudrich, and prominent Auschwitz survivors Marian Turski and Roman Kent accompanied them to the reception.
The pontiff's JCC membership card features the number V007, V for VIP. The number 007, with the 00 meaning "license to kill," is the ID number of the fictional British secret agent James Bond. When asked on his Facebook page if the Pope had the license to kill, Ornstein replied, "a license to kill intolerance."
During the Pope's trip he visited the Auschwitz-Birkenau concentration camp on Friday, July 29. At the death camp, turned memorial site, the Pope silently prayed and met with Holocaust survivors.