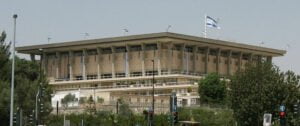 By Jordan Zaitchik
B'nai Brith Canada
Earlier this week, the Knesset passed new and expanded anti-terrorism legislation. The new laws penalize convicted terrorists, supporters and organizers of terror harsher and more effectively than ever before. Punishments range from heavy fines to life sentences.
The goal of the legislation is to "set legal guidelines in criminal law and administrative law, including by means of special measures aimed at fighting terrorism in general and to help prevent the establishment and activity of terrorist organizations in particular." It also seeks to help "prevent and thwart terrorist acts carried out by organizations or individuals."
"This is a law that lives the reality and draws its strengths and definitions from real life in the State of Israel," said Nissan Slomiansky, Head of the Constitution, Law and Justice Committee and HaBayot HaYehudi MK.
"Regretfully, since the day of our establishment we have been in a constant fight against terror. Therefore, this law stems from real life; from the reality on the ground."
Click the image below to view the infograph, which includes the main facts related to the new law.