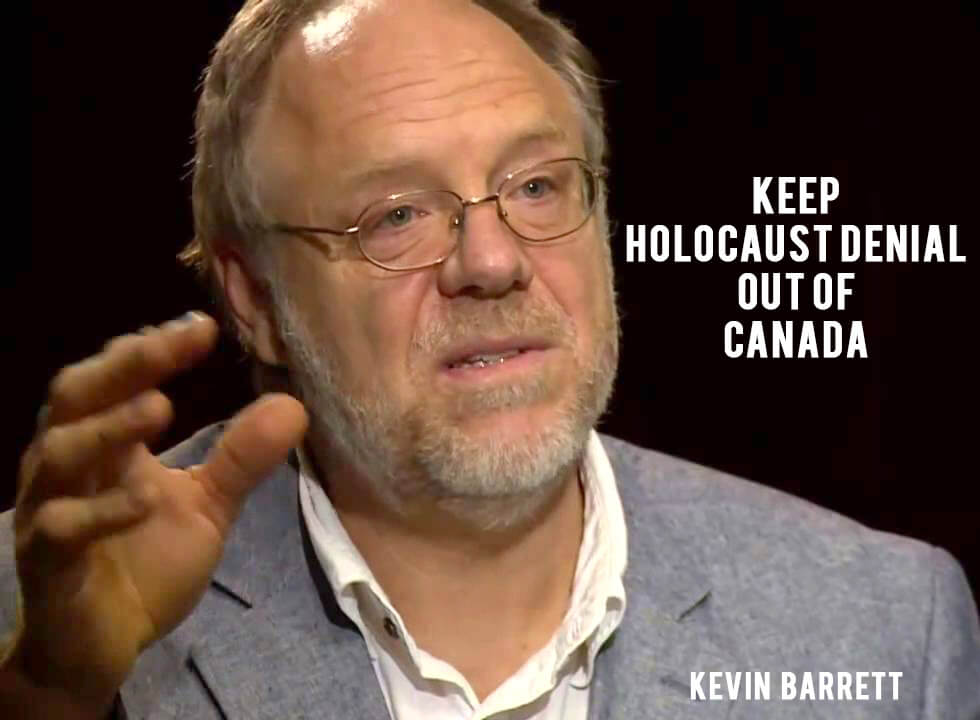 June 20, 2017
By Aidan Fishman
Campus Advocacy Coordinator
B'nai Brith Canada
Kevin Barrett, a notorious Holocaust denier from the United States, has accepted an invitation to address the Toronto al-Quds Day rally on June 24 at Queen's Park, B'nai Brith Canada has learned.
In a bid to protect Canada from foreign hate mongers, B'nai Brith is now calling on you to sign our petition to the Canada Border Services Agency demanding that Barrett be barred from entering this country.
Barrett confirmed his plan to speak at Queen's Park on June 24 during his weekly conspiracy-theory radio show (page doesn't exist) False Flag Weekly News, which he co-hosts with suspended University of Lethbridge professor and fellow Holocaust denier Anthony Hall.
Barrett left his teaching position at the University of Wisconsin, Madison in 2006 following revelations that he supported the false notion that the Sept. 11, 2001 terrorist attacks were an "inside job" coordinated by the U.S. Government and the State of Israel.
Since then, Barrett has repeatedly questioned the murder of six-million Jews by Nazi Germany and its allies during the Holocaust, denouncing what he calls "Holocaust Religion." Barrett has also argued that widespread Holocaust denial in Muslim countries such as Morocco somehow confirms that the Holocaust was fabricated to promote "self-serving Zionist assertions."
The al-Quds Day rally, originated by Ayatollah Khomeini, calls for the destruction of the Jewish State of Israel and in Toronto has featured incendiary speakers in the past. In 2013 and 2016, speakers Elias Hazineh and Ali Mallah called for Israelis to be shot, which lead to police investigations.
Also in 2016, Mississauga Catholic school teacher Nadia Shoufani was suspended after she used her al-Quds Day speech to laud a former leader of the Popular Front for the Liberation of Palestine (PFLP), a listed terrorist entity in Canada. In 2014, the PFLP claimed responsibility for the Har Nof, Jerusalem massacre that left six Jewish worshippers (including one Canadian) dead.
"This is both outrageous and unacceptable," said Michael Mostyn, Chief Executive Officer of B'nai Brith Canada. "Inviting a notorious Holocaust denier to this event demonstrates once and for all that al-Quds Day is not a mere 'anti-Israel' event, but rather a hate rally designed to demonize and denigrate Canada's Jewish population.
"Toronto Police must not allow Queen's Park, our provincial legislature, to become a platform for Holocaust denial and antisemitism, and the CBSA must not allow Kevin Barrett into our country. Enough is enough."
In past years, Toronto's al-Quds Day rally has been led by Zafar Bangash, the controversial imam of the Islamic Society of York Region. Bangash is a staunch supporter of the Islamic regime in Iran, having denounced pro-democracy protesters there in 2009.
If you agree that that the Canada Border Services Agency must deny entry to Kevin Barrett, please sign our petition.