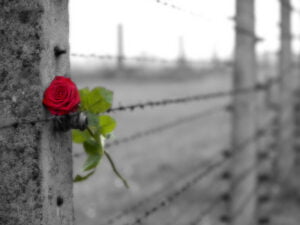 By Daniel Koren
Media Coordinator
B'nai Brith Canada
April 23, 2017
TORONTO – Today, on the eve of Yom HaShoah (Holocaust Remembrance Day), B'nai Brith Canada pays tribute to the six million Jews who were murdered during the Holocaust, as well as the Romani, disabled, members of the LGBTQ + community, and countless others who lost their lives at the hands of the Nazi regime.
In a bid to honour our fallen, and to bestow to the next generation a comprehension of this dark and genocidal era in human history, B'nai Brith is hosting ceremonies across Canada where community leaders, politicians and civilians – Jewish and non-Jewish alike – will read out the names of the victims of the Holocaust, light memorial candles, and recite the appropriate prayers.
Titled Unto Every Person There Is A Name, ceremonies will be held in Ontario (at Oakville Town Hall and Newtonbrook Secondary School), Winnipeg (at the Manitoba Legislative Building), and Montreal (at the Hall of Honour, Montreal City Hall).
"Today marks 72 years since the Nazis' attempt to exterminate our people, and yet, despite our efforts to promote Holocaust awareness and education, antisemitism has been on the rise in Canada, while a movement to rewrite Jewish history and delegitimize the State of Israel continues to persist," said B'nai Brith Canada Chief Executive Officer Michael Mostyn.
"It is of the utmost importance now more than ever that we educate others about the atrocities of the Holocaust, and pay tribute to those who lost their lives," he continued. "It is in their honour that we must stay vigilant in our fight against hatred and prejudice, and eradicate racism and antisemitism from our society."
Following Yom HaShoah, B'nai Brith and the Law Society of Upper Canada will hold a panel discussion on when Holocaust denial becomes hate speech at Osgoode Hall in Toronto,  on Tuesday, April 25, 2017. Admission is free. To register, click here.