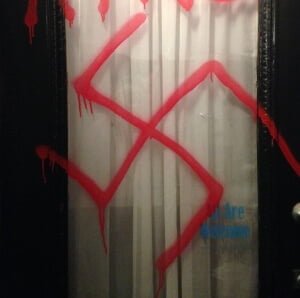 Over the past few days, Jewish sites in both Montreal and Ottawa have been targeted with an unusually heavy barrage of antisemitic vandalism.
On Monday morning, a swastika was discovered on the wall of Hof Kelsten, an iconic Jewish bakery on Boulevard Saint-Laurent, just a block away from the memorial site for the late Jewish-Canadian music legend Leonard Cohen.
Thank you Corey Fleischer for immediately removing #swastikas discovered near @Hofkelsten, a Jewish bakery in #Montreal. #StopHate pic.twitter.com/J2jrRLXdVo

— B'nai Brith Canada (@bnaibrithcanada) November 15, 2016
Later that evening, a blood-red swastika accompanied by the slur "kike" was discovered on the window of a rabbi's home in Ottawa.
"We've seen the rise of white nationalism in recent years, first in Europe, and now increasingly in Canada," said Amanda Hohmann, National Director of B'nai Brith Canada's League for Human Rights. "B'nai Brith has been warning politicians and police departments about increasing antisemitic vandalism and violence for years, and it's time to take serious action against the perpetrators of these crimes.
"These attacks are a symptom of the larger white nationalist movement gaining ground and acceptance around the world, and unless we start upholding the laws that are supposed to protect Canadians from being targeted by hate crimes, this is a problem which is going to get worse before it gets better."
The attacks in Canada come on the heels of a number (page doesn't exist) of similar incidents across the United States, as well as London, England, where vans used by a Jewish school were recently defaced by swastikas.