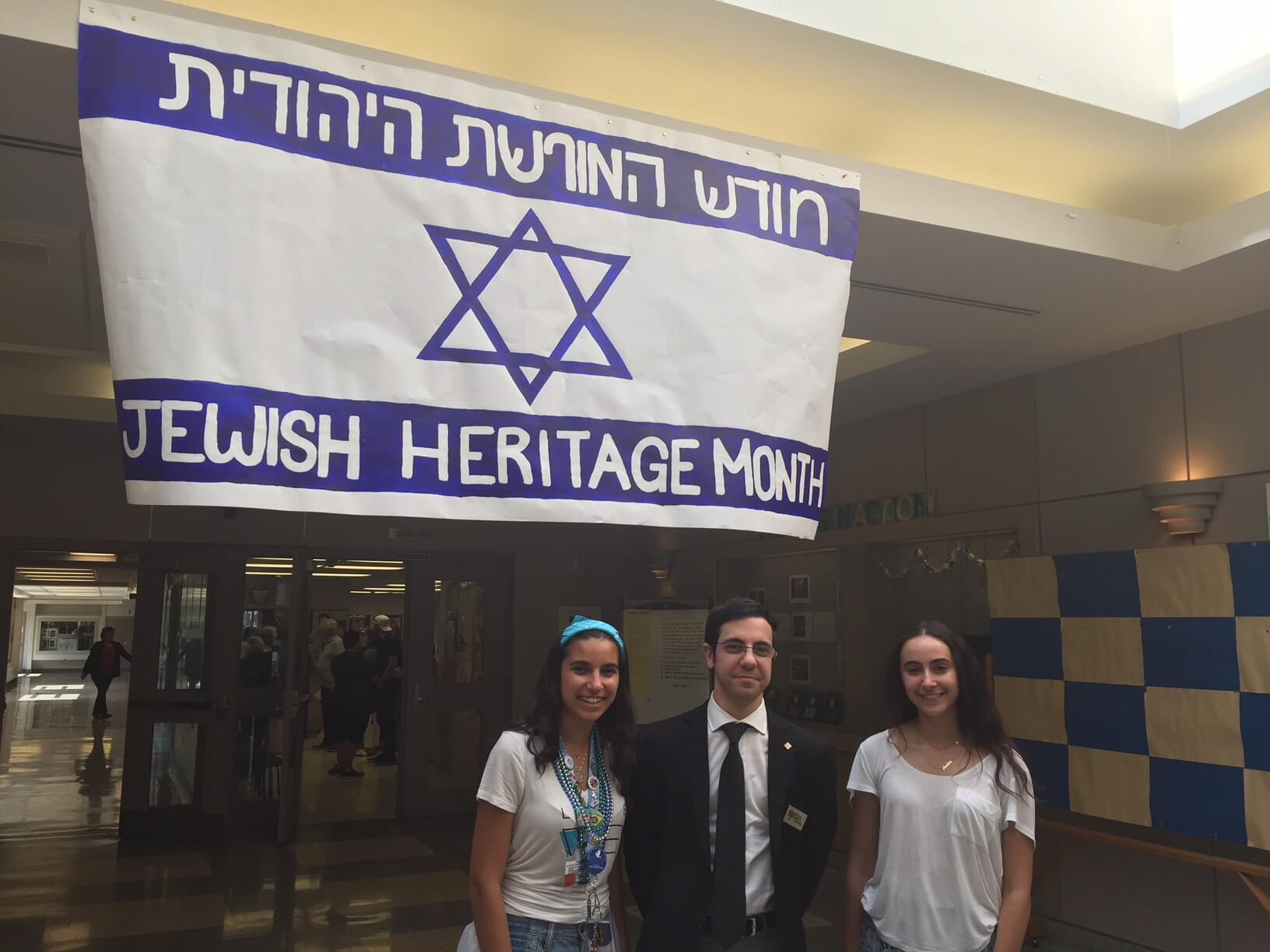 May 23, 2018
By Daniel Koren
Media Coordinator
B'nai Brith Canada
TORONTO – A banner proclaiming Jewish Heritage Month has been restored to the main foyer of a Toronto high school, following intense grassroots activism by Jewish students.
The banner had been removed Tuesday after the principal at Forest Hill Collegiate Institute deemed it "too controversial," in light of its resemblance to the Israeli flag. B'nai Brith Canada immediately reached out to the school, school trustees and Toronto District School Board (TDSB) officials in order to register the shock and outrage of the Jewish community.
Meanwhile, the organizers of Jewish Heritage Month at the school urged their peers to wear blue and white, the colours of the Israeli flag, in order to broadcast their defiance of the principal's unilateral decision. Their successful campaign was capped by a rally outside the school at 4 p.m., in which B'nai Brith participated.
#BREAKING: B'nai Brith Canada is outraged after the principal of a Toronto public school, in a decision upheld by @tdsb, removed a banner made by students for #JewishHeritageMonth, saying it was "too controversial" because it resembled the Israeli flag. https://t.co/ZoV4uj9gVc

— B'nai Brith Canada (@bnaibrithcanada) May 23, 2018
MPP Mike Colle also attended the event. "I want to thank B'nai Brith for alerting us to this mistake," he said. "Jewish Heritage Month is very close to my heart because I helped write the legislation."
"This victory belongs first and foremost to the students, whose grassroots activism has inspired and set an example for members of our community across the country," said Aidan Fishman, National Director of B'nai Brith Canada's League for Human Rights. "We also express our appreciation for local school trustee Shelley Laskin's work on this important file.
"Nevertheless, the decision to remove the banner in the first place, and the TDSB's initial reaction to it, leave much to be desired."
Yes… it will be rehung in the main foyer by 4

— Shelley Laskin (@shelleylaskin) May 23, 2018
When contacted by B'nai Brith, TDSB officials originally suggested that the banner be displayed internally at Jewish Heritage Month events organized by students, but stood by the principal's decision to remove the banner from the main foyer.
The initiative to mark Jewish Heritage Month at the high school came after students returned in April from the March of the Living, an annual program that takes Jewish youth to Poland to learn about the horrors of the Holocaust, and then to Israel to witness the revival of Jewish statehood in their indigenous homeland.
Upon their return, students expressed interest in conducting Holocaust education workshops at their school, but it was suggested by administrators that students combine these activities with Jewish Heritage Month, which is marked in Ontario and across Canada in May.