The opinions, facts and any media content presented do not necessarily reflect the position of B'nai Brith Canada.
Dec. 15, 2017
MONTREAL – As the 2017 calendar year draws to a close, Quebecers must brace themselves for a busy political year ahead. A provincial election is scheduled for Oct. 1 and it is unclear what the outcome might be.
Despite the fact the governing Quebec Liberal Party has eliminated a hefty deficit, the cuts it had to make early on in its mandate – notably in the health system – have not been forgotten by many voters.
The most recent poll, conducted last week by Mainstreet Research, shows that the Coalition Avenir Québec (CAQ), headed by one-time PQ cabinet minister Francois Legault, holds a lead in voter popularity. The survey, commissioned by the political blog Qc125, indicates that the CAQ has 31 per cent support from local Quebecers, two percentage points more than the Liberals. Within the survey's 2.5-per-cent margin of error, that places both parties in a statistical tie. The Parti Québécois came in third at 24 per cent while Québec Solidaire, another separatist party, has 15 per cent support.
For the Jewish community, the CAQ represents an uncertainty as Legault has a small caucus. In the last election, he had two Jewish candidates: Noah Sidel, in the riding of NDG, and Valerie Assouline in Laurier-Dorion.
As for the PQ, it drew the ire of cultural communities during its brief time in power from 2012 to 2014 when it tried to push a proposal to amend the Quebec Charter of Human Rights and Freedoms; establish a duty of neutrality and reserve for all state personnel; limit the wearing of "conspicuous" religious symbols for said personnel such as kippahs; and make it mandatory to have one's face uncovered when providing or receiving a state service.
Of course, as the story goes, the PQ called an election before the legislation passed and Philippe Couillard's Liberals ended up winning the vote. Couillard did say that he would introduce his own measures to deal with reasonable accommodation and, in the past year, he proceeded with Bill 62, which requires residents who give or receive any public service to uncover their faces. The law also details under what circumstances employers and schools should refuse requests for time off for religious reasons. Unsurprisingly, the law did not go over well with religious communities throughout the province.
For the Jewish community, Couillard's mission to Israel, his appearance at a large gathering at the predominantly Jewish Men's Club Breakfast in Côte Saint-Luc and his appointment of Jewish Member of the National Assembly David Birnbaum as chair of the Montreal Liberal caucus were definitely positive developments.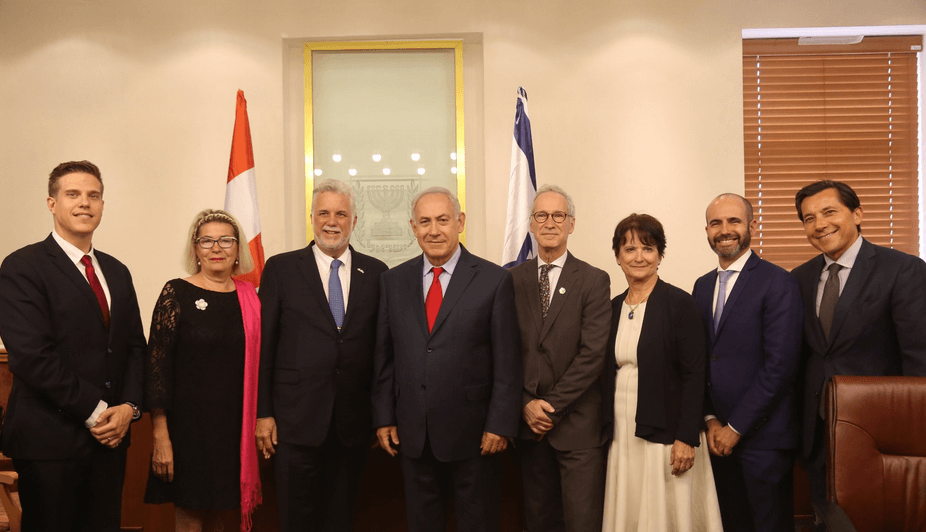 In recent weeks, the English and by extension Jewish communities were taken aback when the Liberals were drawn into a debate by PQ leader Jean-François Lisée who succeeded in getting the Legislature to unanimously adopt a motion inviting Quebec merchants to stop saying  the word "hi."
The word "bonjour," the resolution declared, "expresses magnificently Quebec conviviality" and is almost universally understood. "As a result, (the National Assembly) invites all merchants and employees who are in contact with local and international customers to warmly welcome them with the word 'bonjour'."
This resulted in a backlash for Birnbaum who had to vote in favour of the resolution or risk losing his job. Ironically, it also came weeks after Couillard had introduced a Ministry of Anglo Affairs.
When the next election takes place it will see two ridings with Jewish constituents – Mont Royal and Outremont – merged into one, a decision made by the Quebec Electoral Commission. Prominent Jewish lawyer Julius Grey has been hired to fight this decision in court, but it won't be resolved before October.
Mike Cohen is B'nai Brith Canada's Quebec news bureau chief, a veteran writer and municipal politician. He can be reached at [email protected]. Follow him on Twitter @mikecohencsl